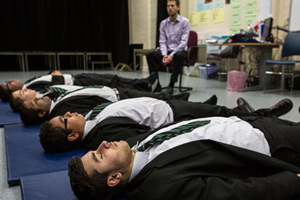 Richard Burnett and Chris Cullen, co-Founders of the Mindfulness in Schools Project, met in 2007. Along with Chris O'Neil, these schoolteachers had experienced the benefits of mindfulness themselves and wanted to bring it to life in the classroom. In approaching the development of a formal course, they tried to answer the following question: 

Question:  When 25 teenagers tumble into your classroom at 11:45 on a wet Tuesday morning, how are you going to interest them in mindfulness? They are tired. They are hungry. They are playing with their phones, and they'd rather be somewhere else. They've never heard of mindfulness, it doesn't sound very exciting, and if you were to tell them that it involved periods of stillness and silence, you'd lose them before you begun. How are you going to convince them that mindfulness is a skill which could make a real difference to their lives?
Answer: .b (Stop, Breathe and Be)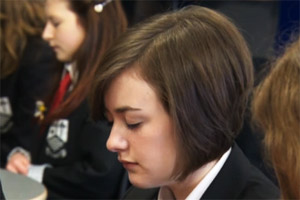 This flagship 9-week course course offers a way in to mindfulness that students find fun, accessible and of genuine use in their lives. The aims of .b are:
for all (teachers and students) to know about mindfulness
for most to enjoy it
for many to use it now and again
for some to practise daily
for as many as possible to remember it
Today the course has been expanded as an offering for teachers, staff and parents, as well as for primary students. It is being taught in 12 countries, and translated into Dutch, Danish, Finnish, German, French and American English.
Because .b is designed by teachers, it is packaged with a specific pedagogy that makes teaching– and learning– mindfulness approachable and relevant to school life, whether that be a stressed teen facing exams, a bullying issue on the playground, a performance moment in sports or music, or enhanced listening and interpersonal communications for teachers.
The audio-visual resources, animations, teacher lesson plans, student booklets, and rigorous certification programme ensure authentic, current materials that are evidence-based and continually evolving.