We are delighted to host our Autumn series of guest workshops exploring themes relating to mindfulness and inclusion.
This workshop is:

Designing a Mindfulness Lesson based on Creativity, Culture & Community by Charisse Minerva

In this half-day workshop we will begin with discussions exploring the concept of the 4C's of Culture, Creativity, Contemplation and Community. What do these terms mean and how can they be useful in the classroom? The exploration will be closely facilitated and will include opportunities for questions and answers exploring the logistics of lesson preparation. Then Participants will design their own lessons that can then be used in their Mindfulness spaces.
About our Guest Speaker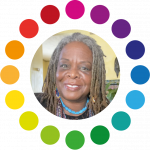 Charisse Minerva is a Community Builder using creativity, culture and contemplation as essential tools for building community, reducing stress and envisioning the future we want to see. She brings a scientific and artistic approach to the field investigating the existence of contemplative practices, their individual and cultural significance, as well as how these practices can be introduced in ways that are broad-based. Charisse has developed a process to study Contemplative Practices that is predominantly an experiential, observational approach, allowing her to teach in diverse communities honoring their traditions while sharing her tools.
Since the early 2000's Charisse has worked to bring contemplative practices (including mindfulness) into marginalized communities, focusing on youth. She has spent several years working as a teacher, trainer, and board member with Inward Bound Mindfulness Education (iBme), which focuses on teen and young adult populations, and has also been a trainer in the .b curriculum in the United States.  Charisse also uses performance, creativity and culture to design ways to engage, educate and re-introduce these ancient practices into contemporary settings.
Further information can be found in Charisse's essay: The 4C's: Culture, Creativity, Contemplation and Community.
Who is the workshop for?
This workshop is open to all school and community teachers. Those working with a group in mind for designing the lesson may find it more effective but this is not required. This workshop is suitable for anyone teaching mindfulness including .b, Paws b and dots teachers as well as School Mindfulness Leads and .b Foundation teachers.
How much does the workshop cost?
This half-day workshop costs £35.
This course meets the conditions of an exempt supply of education provided by an eligible body and is therefore exempt from VAT.