The Lead colleagues in .b Foundations (6-day residential course) is intended to help school staff to develop a sustainable, in-house model for mindfulness training and development. The course prepares .b and Paws b teachers to teach the .b Foundations taster session and 8-session curriculum, but also to become a 'mindfulness lead' within the school or educational organisation where they are employed.
This course recognises the practice and experience of .b and Paws b teachers in schools. With this existing experience and knowledge, they are then helped to develop the additional skills to introduce mindfulness to colleagues within their school or educational organisation in the form of the .b Foundations curriculum.
The course does not equip teachers to become external providers of mindfulness training to organisations other than the one in which they are employed.
The training team will be a combination of experienced mindfulness teacher trainers of adults alongside trainers highly familiar with delivering .b Foundations in the schools context.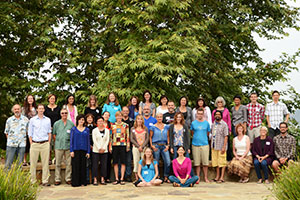 Participants will:
experience the curriculum in 'real time'
lead practices in pairs and small groups
develop the specific skills required for teaching groups of adults – different skills to those needed for working with young people
learn to be able to skilfully guide the meditation practices (which are longer than the practices found in

.

b

or

Paws b

)
 develop ways to engage adults in exploring their experiences through enquiry
explore sustainable, in-house models for mindfulness training and development.
Learning is through participant experience, discussion, interactive enquiry and the teacher's own practice is at the heart of all this learning. There will be opportunities to deepen understanding of the theory and the current research evidence supporting this work as well as gain clarity of the intentions through experience and practice.
Course attendees will leave with detailed session plans, PowerPoint presentations and hand-outs for the 8-session .b Foundations course and taster session. Participants also gain six months free membership of MiSP's network of teachers (see below for more information).
Please click here for the terms and conditions of this course.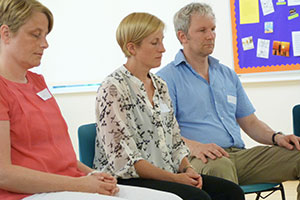 Why is this a residential training?
In the residential setting accommodation and meals are provided and we can temporarily put down the busyness and multiple demands which day-to-day life places upon us. In this way we can explore mindfulness practice more deeply, supporting our own wellbeing and capacity to teach from our own experience.
We are also able to spend some stretches of time in silence as a group. This is a rare opportunity to look into our inner and outer experience and how we are relating to it.
The Timetable
The days are full and it is important to be able to give full attention to the training and rest well. A morning practice will begin before breakfast at 8am. As well as breaks there will be time around lunch and dinner to rest or walk in the nearby grounds. After dinner the evening practice will end around 9pm.
Course

 Prerequisites
Please see our formal list of prerequisites for full details.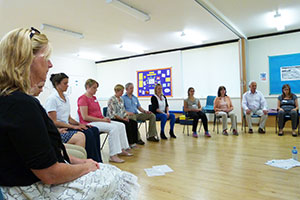 MiSP Teachers' Network
The .b Foundations course includes six months' free membership of MiSP network of teachers (£75 +VAT a year thereafter). The benefits of this membership are:
Access to the  resources, research and promotional material that will help you to inform staff and SLT's at your school as to the nature and benefits of mindfulness for staff.
Access to digital versions of all session plans, teacher notes, power points, handouts and other materials needed to lead your colleagues in

.

b Foundations.
Membership to a dedicated forum for 'mindfulness leads' that have completed the residential training and continue to support each other both in delivering the curriculum and in embedding mindfulness more broadly in their school. This is overseen by a dedicated MiSP

.

b Foundations Trainer
Use of an online survey for participating staff, followed by a presentation of the evidence of impact for those having taken the .b Foundations course. This is particularly useful for demonstrating outcomes to both SLTs and the wider staff body.
Support from a dedicated MiSP Team to help you to continue the journey towards embedding mindfulness sustainability in your school.
Do you offer free places on courses?
MiSP is now a registered charity and so able to offer a limited number of free and discounted places on our courses to teachers working in UK schools depending on the number of pupils in the school who receive Pupil Premium Funding. Please click here to learn more about this offer and apply.