Mindfulness can be presented as an entirely secular practice or as a more 'spiritual' one. The books listed here all provide excellent overviews. The majority of the books in this list are entirely 'secular', with The Miracle of Mindfulness and Mindfulness in Plain English more 'Buddhist', and Wherever You Go… and The Attention Revolution strike a good balance between the two. The Mindful Way to Study is aimed at anyone who wants to study more mindfully, from young people to adults.
Mindfulness: Finding Peace in a Frantic World
by Prof Mark Williams and Danny Penman
Wherever You Go, There You Are
by Jon Kabat-Zinn
Full Catastrophe Living
by Jon Kabat-Zinn
The Mindfulness Breakthrough
by Sarah Silverton
The Way of Mindful Education
by Daniel Rechtschaffen
Sitting Still like a Frog
by Eline Snel
The Attention Revolution
by Dr. B. Alan Wallace
The Mindful Child
by Susan Kaiser Greenland
The Emotional Life of your Brain
by Dr. Richard Davidson
Mind, Brain and the Path to Happiness: A guide to Buddhist mind training and the neuroscience of meditation
by Dusana Dorjee
The Plastic Mind
by Sharon Begley
The Brain That Changes Itself
by Norman Doidge, M.D.
Brainstorm
by Daniel J. Siegel, M.D.
The Mindful Way Through Depression
by Williams, Teasdale, Segal, Kabat-Zinn
Mindfulness in Plain English
by Henepola Gunaratana
The Miracle of Mindfulness
by Thich Nhat Hanh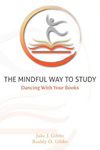 The Mindful Way To Study: Dancing With Your Books
by Jake J. Gibbs & Roddy O. Gibbs