.

begin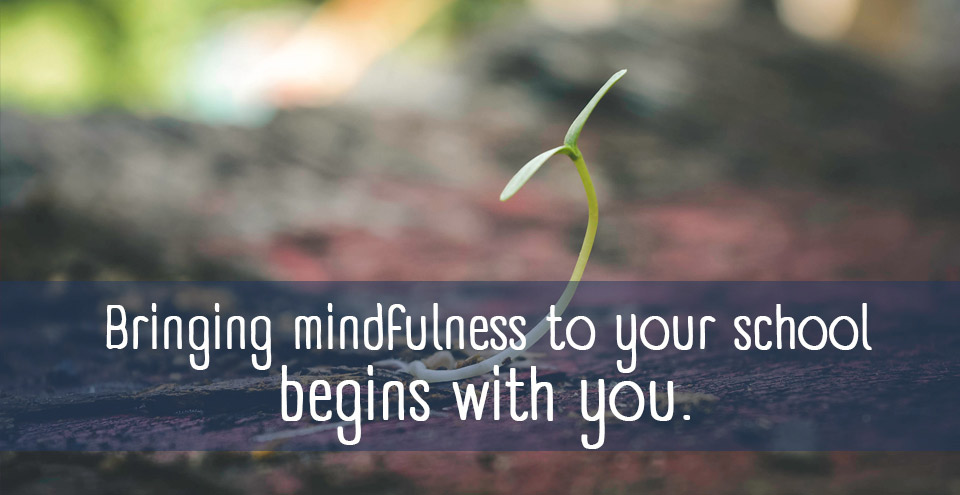 What is

.

begin

?
.begin introduces you to mindfulness over eight weeks via group sessions of approximately 90 minutes per week, usually in the evening. The course is for those who either work or volunteer in a school or work/volunteer within an educational setting on a regular basis and who are new to mindfulness.
The course is delivered via video conferencing, allowing real-time interaction with your group whilst being led by a highly experienced MiSP instructor.
.begin combines the convenience of a live online course that you can complete in the comfort of your own home with the intimacy of live, face-to-face delivery.
Why

.

begin

?
The benefits of mindfulness for school staff have been well researched. See Professor Katherine Weare's paper Evidence for Mindfulness: Impacts on the Wellbeing and Performance of School Staff.
In particular, reported benefits of mindfulness for school staff include:
a reduction in stress, burnout and anxiety
a reduction in the sense of task and time pressure
an improved ability to manage thoughts and behaviour
an increase in coping skills, motivation, planning and problem solving
an increase in self-compassion and self-care
If you are also interested in teaching mindfulness to your pupils, it is important that you first learn it for yourself.
What will I get from

.

begin
Apart from the benefits you might find in practising mindfulness, those who complete the .begin course and continue to practise mindfulness on a regular basis can then qualify for further training to teach either our Paws b curriculum (for 7 – 11 year-olds) or our .b curriculum (for 11 – 18 year-olds).
What are the prerequisites?
Applicants must:
Either work or volunteer in a school or work/volunteer within an educational setting on a regular basis. Please note School governors and those who volunteer regularly in a school (including parent volunteers) are also eligible to apply.
Be over 18 years of age
Be able to commit to the dates and times of the online sessions
Have access to a computer or laptop with a webcam and have a good broadband speed capable of running Zoom, click here to check technical requirements.
Understand that this course is not intended as a therapeutic intervention. Should you have any concerns regarding your mental or physical health, please see your GP or other medical advisors.

.

begin

is intended for participants who have not previously taken part in an 8-week secular mindfulness training course.
Understand that

.

begin

does not involve training to teach mindfulness to young people or adults. It is an introduction to mindfulness for the purpose of supporting participants in terms of their own understanding of mindfulness and general wellbeing.
NB Applicants from outside of the UK must:
Meet the above prerequisites
Are able to speak and understand English to an 'English to an 'Upper Intermediate Level', ie is able to interact fluently with native speakers, can communicate effectively and understands everyday language.
How much does

.

begin

cost?
A supported place on a .begin course will be automatically offered to all those working or volunteering regularly in a state-funded school in the UK, the cost is £150 + VAT per person.
If you work for a local education authority or charity you may also be eligible for a supported place on a .begin course, please click here to read the Terms and Conditions and to complete the request form.
Otherwise, the price is £195 + VAT per person
If you wish to discuss group training requirements please contact communications@mindfulnessinschools.org
---
Ready to

.

begin

?
To view our current list of .begin courses, please visit our course schedule:
.

begin

Taster Sessions
We now offer FREE 30 minute live-online sessions delivered by a trained MiSP instructor to support anyone interested in finding out more about mindfulness and the eight-week .begin course.
Our next .begin Taster Sessions are:
Wednesday 5th December, 7pm
Register in advance for this taster session:
https://zoom.us/meeting/register/d6457f2fd4c37e4ecde7dc3c8da9331e
Monday 10th December, 7pm
Register in advance for this taster session:
https://zoom.us/meeting/register/00e79b2530ce179ec5b9141539e44ee6
---
What our

.

beginners

say: