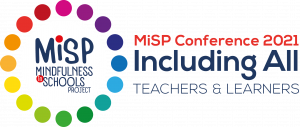 ONLINE, SATURDAY, 19th JUNE 2021, 9.30am-3.30pm
---
We are delighted to invite you to spend a day hearing from experts, thought leaders and practitioners, who will reflect on how schools can include all teachers and learners on their mindfulness journey. Come and join us to be informed, inspired and encouraged to bring mindfulness to your school community.
THE DAY WILL INCLUDE:
Keynote speakers
Panel discussions
Case studies
With practice and networking opportunities throughout the day
---
SPONSOR THIS EVENT!
The MiSP Conference 2021 will provide your business with the exposure and marketing opportunities to engage with hundreds of schools both nationally and internationally.
Enhance your social responsibility credentials by association with a leading, highly reputable charity that is supporting mental health and wellbeing in schools through the pandemic
Reach decision-makers and influencers in the education sector
Help to support schools and young people through the pandemic
Download the Sponsorship Guide.
---
Tickets FREE for Hub members
Current members of the MiSP Hub receive FREE tickets.
To Unlock Hub Tickets
If you are a current Hub member, before purchasing your ticket, sign into the Hub and go to the Conferences page to apply for a Promotional Code which can then be entered above or on the Eventbrite page.
Join The Hub
If you are not a Hub member and would like to take advantage of the special ticket price CLICK HERE to find out about some of the other benefits of membership and how to join.
---
The Including All Conference is supported by:
---

Empowering, Protecting and Supporting Schools for over 25 years
Towergate Insurance are delighted to be supporters of MiSP and look forward to working with your school to help bring teachers and pupils health and wellbeing to the forefront of the education sector.
Towergate have concentrated on the complex insurance requirements of the UK education sector for over 25 years and have developed a range of specialist solutions to provide a one-stop offering to schools, covering a variety of areas of insurance and risk management.
Our policies are suitable for all types of schools; large or small, academies, multi-academy trusts or independent schools and alongside our expertise and knowledge, you can be confident that we have a solution that will meet your school's needs. We offer a range of risk management resolutions, including:
Property and Liability Insurance including cybercrime and data protection
Staff Absence budget protection
Health, Protection and Employee Benefits
An e-learning health and safety portal
Valuation services, health and safety risk management and driver profiling.
We also provide our schools with access to a leading Health and Wellbeing programme, which helps support the schools that we protect. Towergate Health Assist will help you with your 'duty of care' to your colleagues and will help reduce long and short-term absence.
To talk to us about your school's insurance requirements, or arrange for us to visit you on site please call 01438 739626 or email education@towergate.co.uk
Towergate and Towergate Insurance are trading names of Towergate Underwriting Group Limited. Registered Office: Towergate House, Eclipse Park, Sittingbourne Road, Maidstone, Kent, ME14 3EN. Authorised and Regulated by the Financial Conduct Authority.
---