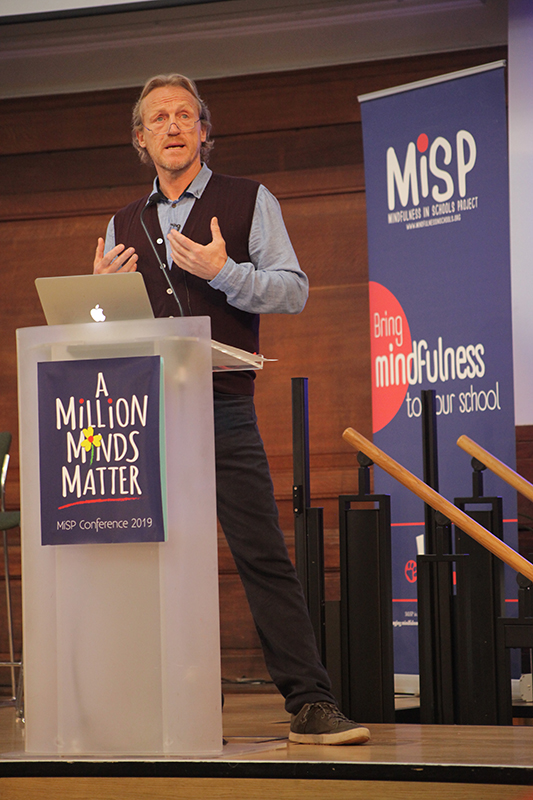 We are delighted to introduce Mindfulness in Schools Project patron: Jerome Flynn.
Jerome is a distinguished actor who has appeared on our screens in award-winning and popular TV series such as ITV's Solder Solder, BBC's Ripper Street, Netflix's Black Mirrror and HBO's Game of Thrones.
As well as being an international TV and film star, Jerome is an experienced meditator who told us that "taking up meditation and practising mindfulness was probably the single most important thing I did in my life… it's been a gift for me, having had fame come to my door early, because I saw early on that that wasn't going to make me happy, that wasn't what I was about, that wasn't what life was about…".
Jerome was one of our key speakers at our 2019 conference where he described how mindfulness tools have supported him in his professional life and brought perspective to his experience of fame. We are delighted to have his ongoing support for our important work.
Where did your mindfulness journey begin?
"I went on this meditation retreat with a teacher who instructed me to relax, pay attention and have no relationship with thought, and those three instructions I can safely say were the most important, life-changing instructions I've ever received. They turned my life on its head because in following them, I discovered that I do actually have a choice in how I relate to my experience… I found myself able to step back from the rambling mind and its preoccupation with the past, the future, and… the fascination with the story of my life and its endless self-concerns…"
What impact did this have on you?
"I found myself sinking into a whole new depth of being which felt both utterly new but also deeply familiar and intimate at the same time. No past chasing me, no future distracting me, increasingly no edges to my experience, inner or outer, just this complete sense of fullness, and, almost a pristine emptiness at the same time. And with that, a sense of total connection, nothing missing, already perfectly complete, nothing to lose or fear: wholeness, home.
The ego and all its patterns returned [when] I stepped back into worldly life but… with regular daily practice, I was able to keep tapping back into that depth of self and, crucially, I did a mindfulness course which hugely helped me in bringing that connection into every-day life."
How does mindfulness help your working life?
"If I was going into anxiety or feeling nervous and self-conscious before going on stage, or even in the middle of filming a scene, I found myself able to use the tools and techniques bringing me back into that centre of stillness and creativity and openness."
What impact has mindfulness had on your personal life?
"Mindfulness has enabled me to bear witness and gain some space from whatever it is I'm thinking or feeling. And how I might be beating myself up… It's a way of truly bringing love to ourselves and giving ourselves a break.
It's shown me I really am the architect of my own suffering. And that what determines my happiness and my easiness is much less how is life treating me, but more how am I receiving life…"
Why do you think children should be offered the opportunity to learn mindfulness in schools?
"The Dalai Lama said that if all of the children on the planet practised mindfulness there would be no more conflict in the world… I can't imagine how I would have managed at all to navigate healthily or happily through life if I hadn't made that journey of reconnection through meditation and mindfulness. For me, there's nothing more important than how we love and rear, educate and support our young people. Caring for the wellness of our young people and the wellness of the whole that what I'd call real progress."
Why are you supporting our A Million Minds Matter appeal?
"I take great heart from this wonderful initiative, A Million Minds Matter, and they really do matter…
We need to remind and guide our young people to the worth, the value and the equality that they were naturally born with, before any story or identity kicked in, before the judgements started to fly… because they're going to need that more than ever to be able to access that place of calmness, connectedness and interrelatedness: not only is that where the real joy and the play and the love and the positivity will come from, but it's also the place from which we are able to truly and most successfully respond to the all the extreme challenges and intensity of these days and of the days to come.
Let's rise into our highest potential into our lion hearts to meet our children and serve them where they are now, so that they will be able to look back at us and be thankful for what we did and who we were."