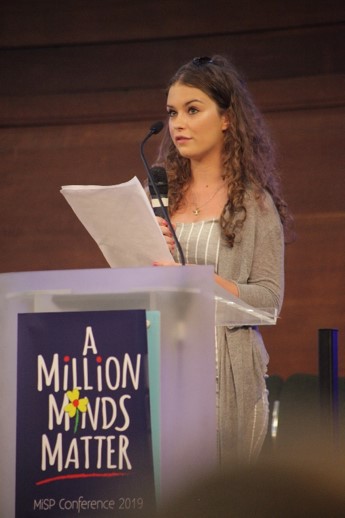 Emily is a sixth form student from Huddersfield, studying A' levels in Psychology, Sociology, Philosophy & Ethics with Buddhism. After being involved in the Manchester Arena terror attack in 2017, Emily's mindfulness practice provided her with vital support.
How did you first learn about mindfulness?
"I first discovered mindfulness when I was 13. At the time I was suffering from anxiety and panic attacks, mindfulness and meditation literally changed my life and enabled me to see myself and other people completely differently, I not only became at peace with myself but I was able to be the absolute best version of myself as well.
When I was 16 I went on the 8-week MBSR course by Breathworks, and this summer I'm going to train to teach .b with MiSP which I am really looking forward to."
How does mindfulness help you?
"Mindfulness was a life saver after being involved in the Manchester Arena terrorist attack in 2017. I found it very difficult to deal with the psychological trauma and I used mindfulness to allow me to feel my feelings and accept what I was going through. Now, if I hear loud bangs, alarms, sirens, certain music or other things that could trigger difficult emotions I can be mindful of that and prevent those feelings from progressing. I have also been able to take many lessons away from the bombing and recognize how strong I am as a result.
I now practise formal mindfulness meditation about three times a day for up to 30 minutes each time, this helps to wake me up and energise me in the morning as well as allowing me to relax and de-stress at other times in the day especially before bed. As I've been practising for a number of years I feel that it comes very naturally for me to be able to incorporate mindfulness into my day and the effects of my formal practise then allow me to be positive and grateful during the day, but I am also aware of how I feel moment to moment and this enables me to respond rather than react to any situation that may arise in the moment.
I can feel a big difference in myself if I haven't meditated. Sometimes, just taking a few deep breaths can make a big difference and allow you to bring yourself back to your body so you can recognize how you feel and what you might need in that moment."
Why do you want to be a MiSP Youth Ambassador?
"Mindfulness is an amazing tool for young people and the more you use it the more it becomes a way of life, and what starts off as a practise to use to relax before an exam or be present in a classroom (for example) can then be your biggest means of learning about yourself as a person and also other people. The way mindfulness stopped me comparing myself to others, creating drama, giving me clarity and focus and so many other things is priceless and would be a huge step to bettering yourself which is not something you forget, as it stays with you for the rest of your life.
The work that MiSP do is exactly what schools need and will help so many students beyond their school life. Helping others through mindfulness is a passion of mine and to be able to spread the word about what changed my life time and again would be amazing. I think it's vital to use mindfulness as early as possible to generate real change in this world and create a community of next generation leaders who want to right the wrongs of the 'leaders' of today.
I was an anti-bullying ambassador and peer mentor in my secondary school, which included looking after the mental health and wellbeing of pupils from years 7-11, but I've also been fortunate to have the opportunity to speak at the MiSP conference two years in a row, giving speeches about my experience at the Manchester Arena terrorist attack and also about life after trauma and using mindfulness to change your relationship with trauma. Since the bombing I have become a trained meditation teacher, I also helped lead a mindfulness workshop for victims of terror at the Warrington Peace Foundation, this included those involved in the Tunisia beach attack, Borough Markets, Warrington bombing and war veterans.
I also went on an iBme UK retreat in Kent last summer which was such an incredible experience that introduced me to a community of people my own age all practising mindfulness and the power of that retreat and all that it encompassed will stay with me for the rest of my life as it was a key component in my mindfulness journey and I would recommend the experience of a retreat to anyone with or without a mindfulness practice.
It is now a huge honour to be able to be a Youth Ambassador for MiSP and help introduce other young people to mindfulness.
My motto is – to be the light that allows others to shine – meaning by being all that I am unapologetically, gives others the permission and inspiration to do the same, until eventually we can all embrace ourselves and become who we always were, even if that person was lost a little on the way."