As a result of the coronavirus pandemic, we adapted our face to face courses so that we could deliver them online after 23rd March 2020. This feedback relates only to the online version of this course delivered since that date.
Total number of participants to 31 December 2020: 147
Number of feedback forms received: 128| Proportion of participants represented: 87%
Mean rating of this course:

9.3

/10
How well organised was the course?
How well structured was the course?
How skilled was the training team?
How well suited is the curriculum for use in your setting?
To what extent do you feel equipped to deliver the curriculum?
Which aspects of the course did you find extremely or very useful?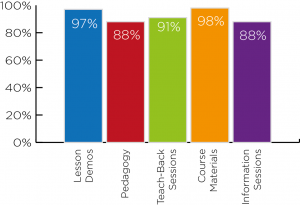 Comments from Participants from 2020 online Teach .breathe courses:
"I found the course really inspiring and want to learn more. I can see how this will have an impact in our school and look forward to teaching these lessons to my students."
"the information was fantastic and the delivery was engaging and made how the lessons should be taught very clear. I think the programme with be perfect for my setting and can't wait to get started teaching."
"The training was extremely professional and comprehensive."
"It was highly organised, clear, inspirational and motivational and I can't wait to use it with children."
"Training was brilliant a wholly positive experience!"
"I thought the course was excellent. Both trainers were brilliant at putting everyone at ease, extremely knowledgeable in their field and personally I found them very inspiring."
"I found the course excellent. The trainers were fantastic and gave us plenty of time to feedback and ask questions. I will definitely consider doing more training with them in the future."
"Thank you very much for the training. The trainers were organised and really seemed to care about each any everyone of us as if we were in the same room. Personable and professional."
"Loved this course, feel well prepared to teach Breathe."
"I'm very keen to do more training with you in the future!!"
"This was a highly enjoyable course. I actually felt calmer and more grounded afterwards and that was after a whole day on a screen. I feel so motivated to teach the lessons and extra convinced of the benefits of introducing mindfulness to our children and the adults too."
"Clear and well structured series of lessons."
"The course materials are brilliant."
"The training was really good."
"All excellent! Thank you! Wonderful experience!"
"It was a fun and informative day and I look forward to putting it into practice."
"It was excellent."
"I loved it! Thanks so much."
"It was great. Pitched just right, and a very calm approach."
"An exceptional online opportunity to model good practice and dialogue with colleagues!
"I thought it was fab and the two hosts were great!"
"It was a NEAR PERFECT experience, as breaks were staggered and the day length was just right."
"A wonderful course with two very open, inclusive, kind, encouraging and humorous tutors!"
"Warm, friendly and no time wasted…good progression. It was obvious that these trainers had used the materials and taught this in classrooms and were realistic…as the programme is…about the challenges which can occur in the classroom."
"It was excellent."
"Having attended and taught courses of a similar format, I found this course to "tick all the boxes" ….especially the clear terms and conditions. I saw nothing which I feel could be changed to improve."
"It was an intense and packed day. Lots to process but the booklets are brilliant. Thank you so much."
"Excellent training."
"I thought it was all good …very well done!"
"Thank you for the training, it was enjoyable and I appreciated the style of delivery and the knowledgeable trainers."
"Thank you to the course leaders."
"Excellent course!"
"An excellent day thoroughly enjoyed. Thanks so much."
"I enjoyed the training."
"It was all done very well… can't think how to improve via Zoom."
"Great course."
"It was excellent."
"MiSP staff were all kind, friendly and professional. Thank you."
"Wonderful atmosphere created by the pair of trainers."
"Fabulous course and presented very well. Thank you."
"No improvements. I really enjoyed the training. Although it was online, it was well organised and i found it very useful."