Friday, 26th April
Friends House, 173-177 Euston Road, London, NW1 2BJ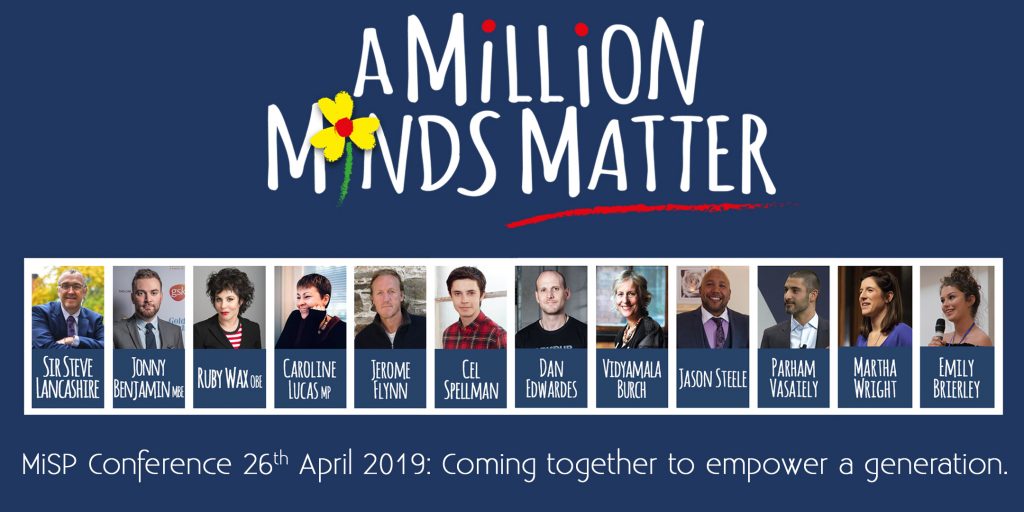 Join us at our annual conference to help us raise funds for our A Million Minds Matter campaign.
You will hear from a panel of expert speakers, headlined by Ruby Wax, who will appeal to anyone wishing to broaden their knowledge and understanding of mindfulness. Alongside the experts, inspirational testimonies and performances will demonstrate the power of mindfulness as an effective tool for 21st century living.
Come and learn how MiSP are making children's mental health a priority today – pledging to reach one million children within the next five years. Find out how you can play a part in this movement, empowering children with a lifelong toolkit to deal with challenging circumstances and to enable them to flourish.
The A Million Minds Matter conference is a fundraising event with all proceeds going towards our campaign goal, ultimately seeking to provide MiSP programmes for as little as £5 per child in order to remove cost as a barrier to accessing the benefits of mindfulness.

Ruby Wax
As well as her stint at the RSC, her 25 years writing and performing on BBC and Channel Four and her one-woman shows, Ruby has written two bestselling books about mindfulness – Sane New World and A Mindfulness Guide for the Frazzled. She is currently touring a show based on her latest book – How to Be Human: The Manual.
Find out more about Ruby at: http://www.rubywax.net/
Jonny Benjamin
An award-winning mental health campaigner, film producer, public speaker, writer and vlogger, Jonny was awarded an MBE for his services to mental health and suicide prevention in 2017. His story is a remarkable one and his experiences reveal a profound understanding of how mental health in the UK is (and is not) treated. Jonny's practice of mindfulness is exemplary in the way it fits into the wider landscape of education and clinical care.
Find out more about Jonny at: https://jonnybenjamin.co.uk/
Sir Steve Lancashire
Sir Steve Lancashire is the founder and CEO of one of the UK's largest and most successful academy chains, REAch2. A National Leader for Education and advisor to the DfE, 'Sir Steve' wants all children to have access to an exceptional education and this includes their mental health and wellbeing. REAch2 is now leading the way to implementing mindfulness across their academy chain.
Find out more about Steve at: http://reach2.org/about-us/reach2-leadership/
Caroline Lucas MP
Caroline needs little introduction – she is a campaigner, a writer and the Green Party's first ever MP, and recently mindfulness has offered a fresh perspective on this pioneering work: At our Conference, Caroline will argue that by bringing about a greater appreciation of the natural world, mindfulness not only inspires us to work harder to protect it, but equips us with the strength to confront the scale of the crisis we face. And where should this process begin? In schools …
Jerome Flynn
Whether you know Jerome Flynn from his Soldier, Soldier days, his chart topping success with Robson Green, his BAFTA nominated role in Ripper Street, or as Bronn in Game of Thrones, you may not be aware of what an important role meditation plays in his life. Well-known for having a big heart, after more than two decades of serious practice there is also a very wise head on those shoulders. Hear this distinguished actor and long-time meditator share his views on mindfulness principles and practice and why he wishes they'd taught it when he was at school.
Cel Spellman
Whether in the hit ITV drama-comedy Cold Feet, the BAFTA Award-winning Friday Download, or presenting his own show for BBC Radio One, Celleach Spellman has already spent a decade on mainstream TV and radio. And he is only 23. Every Sunday afternoon, Cel hosts 'Life Hacks', a Radio 1 show where contemporary youth issues including social media, relationships and mental health are often high on the agenda. So who better than Cel to host an on-stage conversation with a group of young people whose lives mindfulness has changed? Join him at our conference to hack the when, the why and the how of youth mindfulness.
Vidyamala Burch
Vidyamala is the co-founder of Breathworks, one of the most highly-respected mindfulness organisations. Injured in 1977, she learned to meditate in 1985 and in 2001 started teaching meditation and mindfulness to people living with pain, illness and stress. She offers practical guidance in how to bring mindfulness and kindness to experience so one can 'live well' with a free and relaxed mind, whatever the circumstances.
Find out more about Vidyamala at: www.vidyamala-burch.com
Jason Steele
Jason is the inspiring Founder and CEO of Raise The Youth, a not-for-profit that educates and cares for some of the most marginalised children and young people in Manchester. Mindfulness plays an important role not only in RTY's work with young people, but in Jason and his team's own capacity to deliver services in extremely challenging circumstances.
Find out more about Jason at: https://www.raisetheyouth.co.uk/meet-the-team/
Dan Edwardes
Dan is a world-leading expert in parkour, or freerunning. Founder of the global organisation, Parkour Generations, Dan has worked with the UK government to create Parkour UK, the first and only recognised National Governing Body for the discipline. What's this got to do with mindfulness? Everything! Being fully present in the moment; noticing and managing fear; working intimately with breath and body; understanding the self; and crucially: moving. Mindfulness is so much more than just sitting or lying in stillness. Dan will explain how mindful movement is at the heart of freerunning, how it helps young people to flourish in body and mind better than traditional sports, and how to bring parkour to your school. To find out more about Dan's work in parkour visit www.parkourgenerations.com
Parham Vasaiely
Parham is a pioneering engineer who has overseen mindfulness training for over 3,000 employees in the West Midlands. He is responsible for Autonomous Vehicle Development at Jaguar Land Rover, an Advisory Board Member to the United Nations Technology Innovation Lab and has chaired the Mindfulness Initiative's Private Sector Working Group focusing on mindfulness in the workplace. Parham's goal is to give employees and leaders the right mental tools to flourish in an ever more complex working environment. Similarly, he sees mindfulness in schools as a way of equipping young people with an agility of mind that employers increasingly see as essential.
Martha Wright

Martha is the Founding Director of the award-winning charity, Mindful Music. A clarinettist and serious meditator, Martha's experience of teaching in hugely challenging circumstances in Medway led her to become a pioneer in how to combine music and mindfulness in the classroom.
Emily Brierley

Much has changed for Emily since she spoke so movingly about how mindfulness helped her cope with the trauma of the Manchester Bombing at last year's MiSP Conference. Since then Emily and her mother, Jo, have worked with The Peace Foundation to facilitate a meditation workshop for victims of terrorism – including London 7/7, attacks on the Tunisia beach and Borough market, as well as former soldiers who have served in Beirut, Yemen and Northern Ireland.

We've significantly lowered the ticket prices from last year – all profits will again go towards our charitable aims, and we are offering an even larger discount than last year for Hub members!
Hub Members Tickets
Members of the MiSP Hub can get even cheaper tickets – just £60 + booking & VAT, a 40% discount!
To Unlock Hub Tickets
If you are a Hub member, before purchasing your ticket, sign into the Hub and go to the Conferences page to find your Promotional Code which can then be entered above or on the Eventbrite page.
Join The Hub
If you are not a Hub member and would like to take advantage of the special ticket price CLICK HERE to find out about some of the other benefits of membership and how to join.