Don't rush! To embed mindfulness properly takes time…
Click an icon above to proceed to that page
Why should staff learn mindfulness?
If a more mindful culture in schools is to become a reality, a core group of staff exploring and practising mindfulness is essential.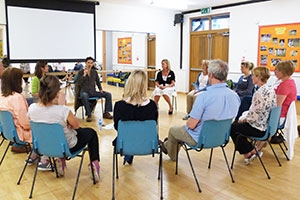 At its most simple there are two main reasons for staff to learn mindfulness:
Mindfulness enhances the well-being and resilience of staff among many other benefits. 'Evidence for Mindfulness: Impacts on the Wellbeing and Performance of School Staff' by Katherine Weare, Emeritus Professor, Universities of Exeter and Southampton
Teachers need to have understood mindfulness personally – from the inside – before they can be expected to teach it well and safely to young people.
Which MiSP courses would you recommend?
There are 2 options, depending on the number of teachers interested in finding out about mindfulness and the availability of a local .b Foundations teachers:
FAQ