Don't rush! To embed mindfulness properly takes time…
Click an icon above to proceed to that page
Build a sustainable model in your school by training staff to lead colleagues in adult mindfulness 'in-house'
The most affordable longer-term path to embed mindfulness in your school or chain of schools is to train up one or more of your staff as 'mindfulness leads'.
The School Mindfulness Lead training is intended to help school staff to develop a more sustainable, in-house model for mindfulness training and development. The course prepares .b and Paws b teachers to lead the .b Foundations taster session and 8-session curriculum, but also to become a 'mindfulness lead' within the school or educational organisation where they are employed.
This course recognises the practice and experience of .b and Paws b teachers in schools. With this existing experience and knowledge, they are then helped to develop the additional skills to introduce mindfulness to colleagues within their school or educational organisation in the form of the .b Foundations curriculum.
The course does not equip teachers to become external providers of mindfulness training to schools other than the one in which they are employed.
Why train 'in-house'?
Whilst you need outside expertise initially to kick start mindfulness, an in-house 'mindfulness lead' plays an important role in embedding it for the longer term by:
Running 8 week-courses and drop-in sessions for staff on an on-going basis.
Developing a depth of personal understanding to guide and orient your school's mindful culture
Tailoring the teaching and practice of mindfulness to your school's own unique needs. Every school is different.
Doing the above in a way which is affordable and sustainable.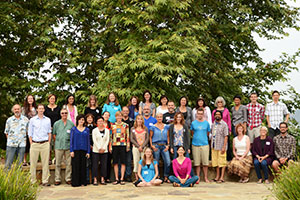 Can anybody train?
No. You need to have developed a depth of personal understanding of mindfulness and experience of how it works in schools. See our full list of prerequisites.
When is the next course?
Please see our list of forthcoming courses here.