Name: Ffiona Owen
Role: External mindfulness teacher
Location: Swansea
Age range of students: 7 – 11 years (KS2)
No. students: 146 (8 of which in STF class)
No. of classes: 6 (incl. Specialist Teaching Facility – STF)
Date of delivery: 04/10/2021 – 26/01/2022
Having delivered the Paws b programme at Ysgol Gynradd Gymraeg Pontybrenin during the Summer term in 2021, Mrs Naomi Beynon, deputy headteacher at Bishopston Primary School, expressed an interest in introducing this programme at her school; her children were pupils at Pontybrenin and had they had benefited greatly from the course so she was keen to implement it at Bishopston.
After discussions with Naomi and Mr John Owen, the headteacher, it was agreed I'd deliver the Paws b curriculum to all KS2 classes Years 3 to 6, and to the KS2 Specialist Teaching Facility, as a self-employed mindfulness teacher.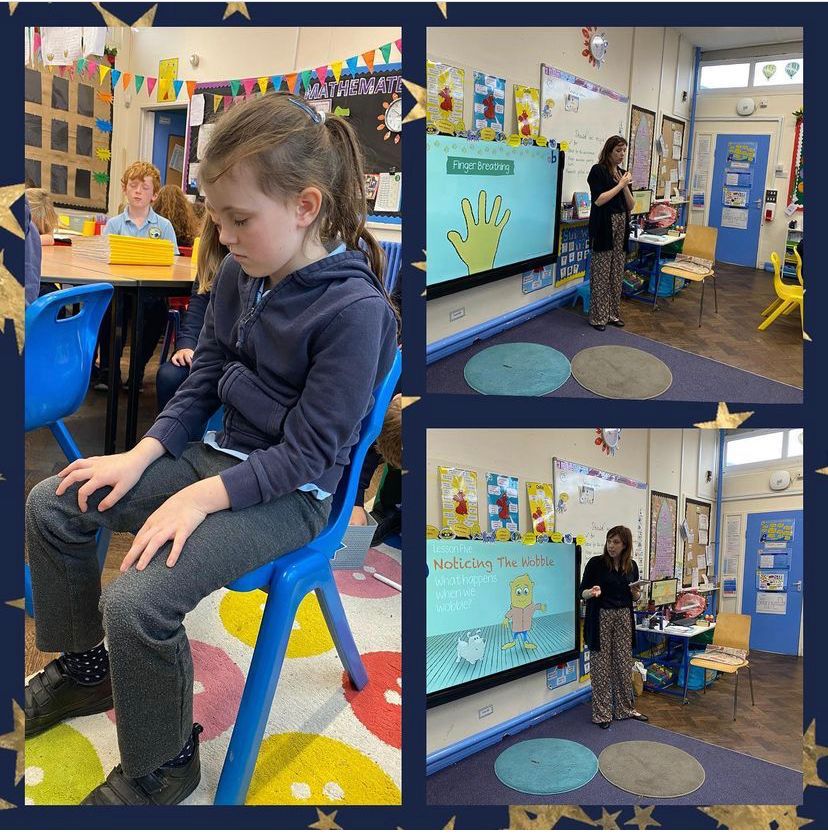 Bishopston Primary were already doing informal mindfulness sessions themselves using various resources gathered from the internet but were keen to develop this work further. They also have a very strong school ethic that health and well-being underpins everything they do and is the most important thing in order to deliver best results. The school, staff and students were familiar with the concept and given this ethic, it was an absolute pleasure to work beside them. They also do a lot of outdoor learning sessions which is brilliant given the convenience of the school to the Gower coastline and its beaches.
Covid-19 was still around but didn't lead to any school closures therefore we were able to have the continuity of lessons, with the exception of Christmas holidays and me being off sick one week.
This was the first time I delivered the Paws b curriculum in English, having taught it in Welsh previously. I had learnt a lot from my previous teaching sessions and decided to make the classes more interactive and everything done verbally as a class as opposed to doing any worksheets, pair work or group work. This enabled us all to explore pupils' and teachers' thoughts and feelings more, and also enabled us to link parts of the Paws b curriculum to work they had already done in the classroom e.g. snowball effect. These moments of discussion also enabled the class teachers to identify times where these practices might be useful for them as a class and we had some wonderful stories come from this; Year 5 went on a school trip to the National Botanical Gardens of Wales and decided to have a mindful moment when they were in the Tropical House.
They listened to the water running and even noticed birds tweeting – they wouldn't have known they were there normally had they not stopped and noticed, and it definitely enriched their experience.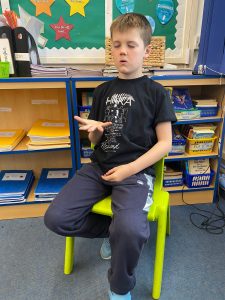 This was the first time I had taught a group of children with additional learning needs. Before I started, I had a chat with Mrs Michelle Bennett, KS2 STF teacher, to see how best I could deliver it given the pupils' needs. We decided it would be best to deliver the same 30-minute session I give Years 3 and 4 over a 45-minute class, allowing time to repeat key points. The feedback we've had from the classroom assistants, pupils and parents has been amazing. The children who looked like they weren't taking anything in were seen using the mindfulness practices independently during class. Michelle shared the practices with some parents so they had an understanding of what the children were doing.
The children have absolutely loved the sessions, have been so engaging and made my time there truly magical.
---
Bishopston Feedback
Pupils

"It helps me calm down when I am feeling hyper after playing football in the yard." Yr 3
"I do it when I am feeling worried about my dad being away with work." – Yr 3
"I like the five finger breathing and I do it when I am feeling cross to calm me down." – Yr 3
"Ten out of ten" – Yr 4
"It's relaxing." – Yr 6
"It calms my brain." – Yr 6
"It makes me feel tired." – Yr 6
"It helps me de-stress." – Yr 6
"It has taught me which part of my brain does what." – Yr 6
"It helps me with my work, when I need to do activities." – Yr 6
"It makes me feel loose." – Yr 6
"It clears my mind." – Yr 6
"It's helpful. It makes me concentrate more." – Yr 6
"It makes me feel free." – Yr 6
"It helps me fall asleep at home; I do the finger breathing." – Yr 6
"I enjoy it, but I find it hard to keep still." – Yr 6
"Our favourite practice has been the mindful mouthful." – Yr 6
"Mrs Owen, is this our last session? I'm going to cry when it is." – (Specialist Teaching Facility – STF)
"When I'm in my bubble, I feel like I'm high in the sky on my fluffy cloud, floating and being happy." – Yr 5
"Peaceful."
"Joyful."
"Ah! So that's why I lose my temper!" – Yr 5
"Mindfulness is amazing." – Yr 5
"Hapus!" – STF
"When I do mindfulness, I go to the beach and I am happy." – Yr 5
"I do the practices during gymnastics so that I don't fall and I can be at my best." – Yr 4
"When I was in bed, everything was quiet in the house. My thoughts started getting carried away thinking my parents had left me home alone, but then I noticed this thought was made up and wasn't true, and I stopped worrying." – Yr 4
Parents
"Our daughter loves it! She is often teaching us different breathing techniques, she confidently uses the finger breathing to calm herself down and will tell us "don't talk to me yet, I'm doing my breathing!" She also enjoys it when we sit for a quiet few minutes in the garden listening to birds or watching a bug, no doubt this has been helped by all your work in school. Thank you for showing them how to develop such a life enhancing skill." – (Year 3)
"We have been using the breathing technique opening and closing his hands and focusing on breathing when he gets angry. Also going up and down his fingers breathing. We have found them both very positive and it seems to calm him down quicker than usual. Thanks so much." – (Year 3)
"Our son uses mindfulness to stop himself feeling sick in the car. We talk a lot about mindfulness at home. We did have a chat about flight and fight the other day and his sister knew a lot about the subject. I was really impressed!" – (Year 5 and 3)
Teachers
"It has helped me as a classroom teacher to vary my practice with the class." – Year 3
"We now use mindfulness as a part of the class routine." – Year 3
"Pupils will ask if we can do it, especially during wet play days etc." – Year 3
"Lots of parents reported during the parent phone calls that their child had taught them how to do it at home."- Year 3
"Children have been using strategies outside of school and find it useful. They use the strategies to calm down." – Year 4
"I am very happy with how the Paws b sessions are going. The children really enjoy, and since day one I have seen an improvement in their concentration. Each week we are taught a new method of mindfulness. This allows each pupil to select their preferred method of mindfulness, rather than all being asked to use the same. As a teacher this then makes mindfulness sessions that much easier, as I feel comfortable leaving the children to do this independently with supervision. This has improved their confidence, and several children have mentioned how they now use it at home to help them sleep or calm them down. The PowerPoints are also enjoyable and easy to follow, and Ffiona is fantastic with the children." – Year 5
"Most of the children seem to enjoy it and find it useful." – Year 4
"The sessions do calm most of the children down." – Year 4
"It has helped me with my ability to deliver mindfulness strategies." – Year 4
"Small portion of the children say that the strategies do not work and some do not want to participate." – Year 4
"It's criminal that mindfulness isn't compulsory across all schools. It's amazing these children are being taught this and everyone should be doing it." – teacher's family member.
"We had a mindful moment in the Tropical House when we visited the National Botanical Gardens and it was wonderful; we all listened to the water flowing and even heard birds there that we wouldn't have heard otherwise!" – Yr 5
---
As a result of this teaching, the school are in the process of developing a new school curriculum with mindfulness set at the heart of it, for Foundation Phase and KS2.
Discussions have taken place on how mindfulness can be embedded within the school long-term with the excellent understanding they've gained for the need for class teachers to be mindful themselves in order for the class to be truly mindful.
Several teachers have expressed an interest in continuing with mindfulness courses for themselves personally and to also be able to deliver it as their role as a class teacher. Indeed, the school have been so impressed with the programme that they've booked 8-week mindfulness training for all staff in Foundation Phase and KS2 with a view to fully embedding mindfulness within the school and possibly look at staff training further in the future in Paws b and dots so that the school can be self-sufficient with its mindfulness teachings. It was decided that the Paws b posters would be displayed on the pupils' toilet walls – it was discussed that some children go to the bathroom to calm down and this would be a useful place to display them without them getting lost on the walls of the classroom walls. The children noticed them straight away, coming back to class asking why they had appeared there!
---
Written by Naomi Beynon:
How does mindfulness sit within and complement your wider wellbeing offering for staff and students?
Mindfulness is now an integral part of the school day, it is used within assemblies as part of our reflection time and also at transition times. We have found that behaviour has improved as a result of the children being given more opportunities to self -regulate. Mindfulness has been embedded into the self-regulation strand of our health and well-being AOLE and has been a focus on the School Development Plan this academic year.
We are a school focused very much on outdoor learning, pupils visit beach and forest school on a regular basis. We feel that mindfulness is the perfect accompaniment to this focus as we can introduce mindful moments and breathing practices in the outdoor spaces.
Teacher workload and stress is a well-documented issue. We now intend to train all our teaching staff in 'The Present' mindfulness course which will help them deliver mindfulness to a higher level and also help them deal with their own emotions.
What plans do you have to develop this for the future?
We want to set up Mindful Ambassadors in school so the pupils can take ownership of the practice. When Covid restrictions ease we would like to hold mindful sessions for the wider community and parents.