We are delighted to introduce Mindfulness in Schools Project patron: Ceallach Spellman.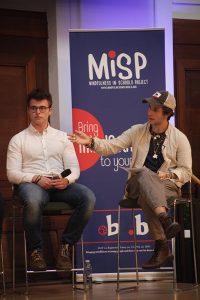 Whether in the hit ITV drama-comedy Cold Feet, BBC's World on Fire, Waterloo Road, the BAFTA Award-winning Friday Download, or presenting his own show for BBC Radio One, Ceallach 'Cel' Spellman has appeared on our mainstream TV and radio for over a decade. And he is still only 24! As host of Life Hacks, a BBC Radio 1 show featuring contemporary youth issues including social media, relationships and mental health, Cel was the ideal Chair for our 2019 Young People's Panel, leading a rich and inspiring discussion for our 650 strong conference audience. His broad experience of the media, his understanding of the challenges that this generation of young people face, and his warm, interested and caring attitude make him a highly respected and valued supporter of our cause. We are delighted that he is now a Patron of our charity.
Where did your mindfulness journey begin?
I've been practicing mindfulness and meditation for around 7-8 years. I'd always been aware of the benefit to my personal well-being of meditation but was not as aware of the importance of mindfulness. Originally, a friend introduced me to the concept and I was instantly intrigued so I started reading books and using an app to find out more and help me practice this are on a more regular basis. Once I'd learnt about it, I started seeing mindfulness popping up everywhere and I could certainly vouch for its popularity and the positive impact it has had.
Why is mindfulness relevant?
We live in a hectic, fast-paced, and, at times, overwhelming multi-sensory world which can be difficult to navigate and get peace of mind. Life can be non-stop and not always easy. I hear about these constant pressures and worries in every conversation I have with young people and the huge negative impact it can have on their mental health. It can be tough to create moments of calm and find some peace and quiet. Learning to stop and take a moment to breathe, be present and find a quiet space really supports mental health and provides some relief from the incessant demands of the world we live in. For me, learning that I can create some mental space without having to physically take myself off somewhere has been really helpful, especially with my work.
Why do you think children should be offered the opportunity to learn mindfulness in schools?
Mindfulness can help young people navigate through confusing and stressful times wherever they are. As we all know, life and school can be difficult and very demanding at times both socially and academically. Mindfulness is a skill which can benefit any young person, from any background, any type of school, in any area, both in and out of the classroom. That's why I think it should be on every school curriculum and offered to every child.
The next generation, I believe, can and will change the world. We need them to have all their mental and physical skills in top order so that can make good judgements and change their lives in a positive way. Mindfulness and meditation is just one of the key things that can be a massive help to the individual and our collective society.
Why are you supporting Mindfulness in Schools Project?
I know that 'mindfulness' is everywhere these days but I want to support an organisation which is dedicated to taking action and bringing evidence-based mindfulness to young people directly into schools in a way that is structured and supported. It was such a pleasure to be involved in the 2019 conference and part of such a special, insightful community around a subject I believe in. I loved meeting and chatting to the young people. They were wonderful and spoke so openly, honestly and eloquently about there own personal experiences and how mindfulness has helped them. It feels like there is real momentum building with this organisation with opportunities ahead to reach more and more schools, teachers and young people. The work MiSP is doing is so vital to the health and well-being of all our young citizens and I am happy and proud to support this charity in any way I can so mindfulness can inspire and help as many young people as possible.