Mindful leadership in schools can be key to creating a successful mindful school community and supporting our own and others' wellbeing.  Mindfulness in Schools Project is delighted to host a course delivered by our Guest, Maggie Farrar, to support the development of such leadership. This will include a copy of Maggie's book, "Leading with Presence: It's An Inside Job".
This course is open to participants looking for a refresher / chance to be with a community of leaders exploring mindful leadership as well as people attending for the first time.
---
Exploring Mindful Leadership
If you have undertaken an approved 8 week mindfulness course and are a middle or senior leader in an educational setting (or are aspiring to be) then this course is for you. You may be leading a class, a team or be responsible for an aspect of the schools' development and improvement. 
Join Maggie Farrar to explore the professional benefits of mindfulness to cultivate and sustain our leadership, whatever our role, and to discover the power of developing a culture of mindfulness across a school and the impact this can have on all members of a school community.
In this programme we will consider the following:
The power of 'leadership presence' and how the practice of mindfulness helps strengthen 'present moment awareness' and the ability to ' be with' whatever is happening moment by moment, day by day;
Mindfulness practices to develop clarity of mind, focus and effectiveness in our daily work, able to handling stress and overwhelm, and cultivate calmness and an inner wisdom;
An exploration of how we can stay balanced, safe and secure in the most complex of times,  responding wisely, and drawing on our values and core principles
Practices to strengthen resilience and resonance as leaders and the importance of cultivating daily practices to 'renew' and sustain ourselves and others  through the complex and demanding role of leadership.
---
Maggie Farrar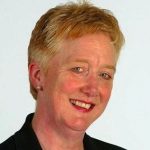 Maggie has worked in London and Birmingham in senior leadership positions in schools and local authorities. She was the Director for Leadership Development, Research and Succession Planning at the National College for School Leadership in England and interim Chief Executive.
She has been instrumental in the development of a school led self improving system in England and has led the design and development of leadership programmes that support the growth of system leadership and the development of cluster based collaborative approaches to school improvement.  She is currently working with over 1,700 schools on a national model of peer review and school collaborative self -improvement in England with Education Development Trust.  She is also supporting the development of the National Academy of Educational Leadership in Wales, with particular reference to their leadership wellbeing strategy.
She is a leadership coach to a number of leaders and senior leadership teams.
Over the last 3 years she has worked with over 1000 leaders on strengthening their leadership and supporting their own wellbeing and the wellbeing of others. This has included fostering practices that reduce stress, anxiety and overwhelm and increase effectiveness and resilience through the practice of compassionate leadership. She is the author of 'Leading with Presence; it's an inside job,' published in 2022 by Cadogan Press.
She is a Trustee of L.E.A.D. Academy Trust and The Story Museum, Oxford; a museum dedicated to the power of story to change lives.
She was awarded the CBE for services to Education in 2014
To find out more about her work go to: https://www.empoweringleadership.co.uk/