Today, marking the end of World Wellbeing Week, the national charity Mindfulness in Schools Project announces three internationally famous figures as its inaugural patrons.
Game of Thrones star Jerome Flynn, environmental campaigner and politician Caroline Lucas MP and pioneering academic Jon Kabat-Zinn are known globally for outstanding work in their respective fields. Now, they are offering their support to the charity, Mindfulness in Schools Project (MiSP), which has been working in schools and other youth-related contexts for over 10 years and is widely recognised as the originator and leader in the field of mindfulness in education.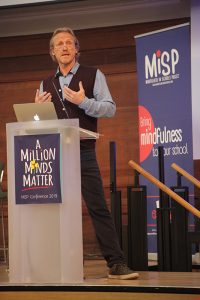 Speaking at MiSP's A Million Minds Matter conference in April of this year, Jerome Flynn, who plays Bronn in the acclaimed HBO series, said:
"Taking up meditation and practising mindfulness was probably the single most important thing I did in my life".
He described how mindfulness tools have supported him in his professional life and brought perspective to his experience of fame:
"I can't imagine how I would have managed at all to navigate healthily or happily through life if I hadn't made that journey of reconnection through meditation and mindfulness."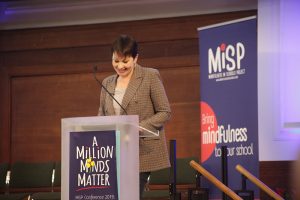 As a Green Party MP, Caroline Lucas believes that mindfulness can not only help young people to fully appreciate the beauty of our planet, but also equip them with the mental resilience and the practical tools needed to protect it:
"It strikes me that in bringing about a greater appreciation of the natural world mindfulness not only has the potential to inspire us, but also to equip us with the strength to confront the true scale of the crisis we face".
Caroline has been one of over 670 parliamentarians and their staff who have received mindfulness training at the Houses of Parliament since 2013, and she support the charity's aim to bring secular mindfulness to more children and more schools.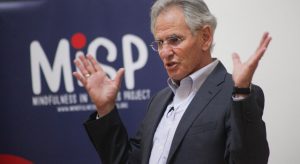 Finally, the appointment of academic Jon Kabat-Zinn, the 'founder of secular mindfulness', provides international scientific clout to this charity's work. Jon Kabat-Zinn's pioneering work at the renowned Stress Reduction Clinic at the University of Massachusetts Medical School set the wheels in motion for the scientific study of mindfulness by neuroscientists and clinical psychologists, now a well-established discipline. Jon said:
"There is nothing more important than awareness and we never got any schooling in it until recently with Mindfulness in Schools Project. Awareness has everything to do with what it means to be truly human. What is education about if it's not committed to inspiring and igniting passion for what it means to be really human so that the kids can live their lives fully?"
MiSP are currently running a campaign to raise funds to ensure that cost is not a barrier to schools accessing their high-quality, research-based classroom lessons. Their A Million Minds Matter appeal aims to reach a million young people over the next five years. Nearly 5,000 teachers have already attended their life-changing training, and their curricula has been translated into 12 languages and is used worldwide.
MiSP CEO Chivonne Preston said:
"We are so grateful to Jerome, Caroline and Jon for their commitment to our charity as our new Patrons. We look forward to working with them to raise awareness of the benefits of mindfulness in schools, for children and young people, their teachers, and the whole school community."