In 2001 Kate Delaney was a fit, well and active graduate with her whole life in front of her when she was suddenly incapacitated by a mysterious illness. Rapidly deteriorating, she became immobilized, house-bound and dependent on her parents as carers whilst doctors investigated her condition but remained mystified.
Experiencing seizures, rapid weight loss and nerve pain, she had no strength to climb the stairs or get out of bed. She couldn't read, write, listen to music or even open her eyes for more than a few minutes at a time. "I simply lay in the same bed in the same room day after day, waiting, hoping for a miracle".
Losing her independence, watching her friends have careers, marry and have children, and seeing her dreams and ambitions disappear, Kate's mind regularly disappeared to dark places. In desperation, her parents asked an experienced mindfulness coach to visit Kate and teach her mindfulness each week. It brought relief to Kate's suffering. Kate leant how to bring her mind back to the present when it sought dark alleys. "I learnt that I had a mind and that my mind did not have me". She became skilled at observing her mind, watching her thoughts, and noticing the beauty in simple things: the changing sky outside her window, the taste of home-cooked food, the smell of hand cream …
"Mindfulness gave me a tool by which I no longer had to follow my mind into the past or into the future. I could stop it in its tracks. It was a way that I could live moment by moment in the present. A way I could cope."
Finally diagnosed with advanced neurological Lyme Disease in 2007, Kate began her journey of physical recovery and rehabilitation, but it was her introduction to mindfulness during her illness that gave Kate the mental resources to cope with her debilitating situation.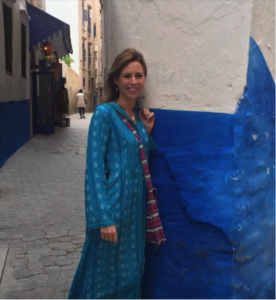 Thankfully, following intensive treatment, she recuperated and is now fully fit. Keen to support and inspire others, she is now a passionate mindfulness teacher, clinical hypnotherapist, mentor and coach. In September 2019 Kate will be walking a massive 500 miles along the Camino de Santiago to raise money for MiSP's A Million Minds Matter appeal and for Lyme Disease Action: a walk she once couldn't have imagined was possible. She will be teaching mindfulness along the way to introduce its many benefits to others.
If you would like to sponsor Kate, please visit her JustGiving page.
If you would like to read more about Kate's story, visit her website.
If you would like to undertake a personal challenge to help raise funds for our A Million Minds Matter appeal, please take a look at our Fundraising Pack for ideas and visit our JustGiving page to start fundraising for us!