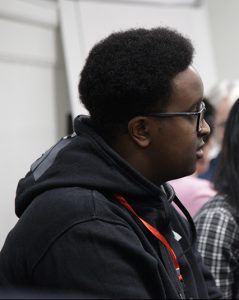 Haroon is a sixth form student studying for A' levels in Biology, Chemistry, Maths and Physics. He recommends mindfulness to other young people as a powerful tool to help them when they are going though difficult times …
How did you first learn about mindfulness?
"I discovered mindfulness during an assembly in year 7. But I got more into mindfulness during year 9 when I attended mindfulness sessions at an after school club."
How does mindfulness help you?
"Mindfulness has been helpful and nourishing when I'm trying to calm down my anxiety or when I'm trying to focus my mind. It has also helped me look at things in a new perspective and enjoy the present instead of worrying about the future."
Why do you want to be a MiSP Youth Ambassador?
"I want to help and support people who are suffering with difficult mental health problems. I would like to spread mindfulness to as many people so they can use this amazing tool when they are in distress."
Haroon was part of our Youth Panel at our 2019 A Million Minds Matter Conference.
See photos and watch videos of the day.