As a result of the coronavirus pandemic, we adapted our face to face courses so that we could deliver them online after 23rd March 2020. This feedback relates only to the online version of this course delivered since then.
Total number of participants to 31 December 2020: 218
Number of feedback forms received: 180| Proportion of participants represented: 83%
Mean rating of this course:

9.5

/10
How well organised was the course?
How well structured was the course?
How skilled was the training team?
How well suited is the curriculum for use in your setting?
To what extent do you feel equipped to deliver the curriculum?
Which aspects of the course did you find extremely or very useful?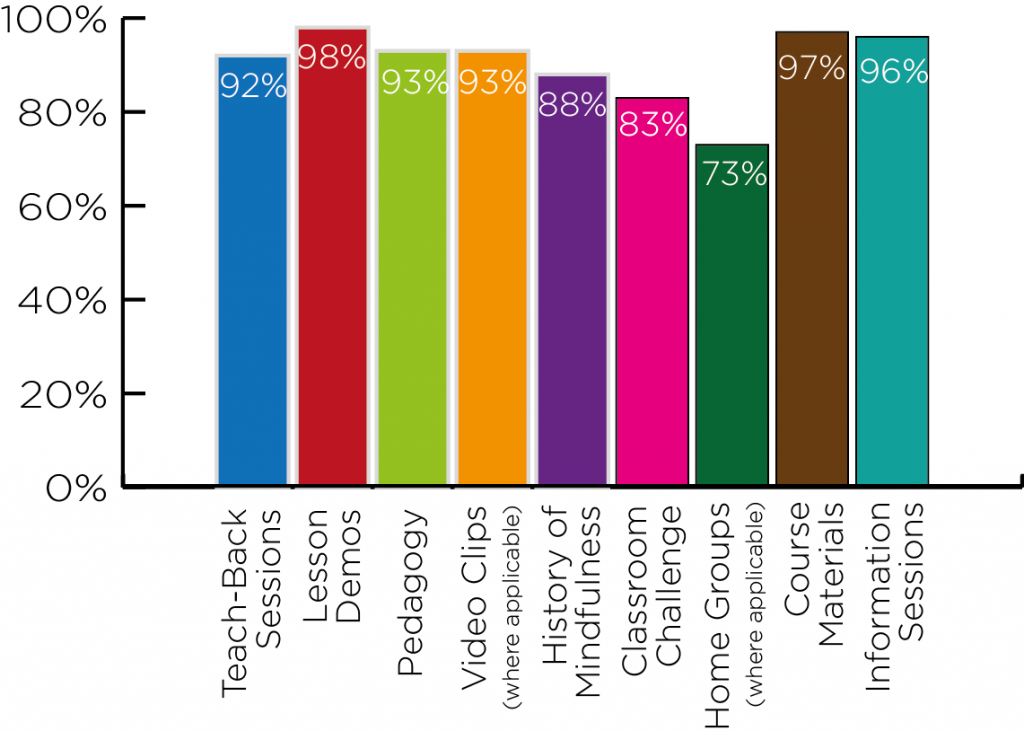 Comments from Participants from 2020 online Teach .b courses:
"One of the best courses I have attended in my 30 years as a teacher. Thank you."
"Fantastic course thank you so much!"
"I found the week's training really inspirational, and I am looking forward to taking it back into school."
"Doing the course online saved time and money on travel. It was lovely doing it in the comfort of my own home."
"Really enjoyed the course and really looking forward to delivering to the young people. Thank you!"
"Just again want to say how well run this training was and how impressed I was with the trainers in creating a safe, engaging forum."
"The trainers made the experience very good and a safe learning environment. I felt it was inclusive and supportive."
"It was fantastic and has inspired me continue and teach the topic!"
"The training was brilliant. Blows my mind how well it can work via zoom – that the sense of a group can be achieved but it does."
"It was an education beyond my expectations. Thank you."
"The exchange with the lecturers and the other participants was very enriching. I took a lot from this week."
"I actually think it is the best presented course I have attended. The trainers were engaging, extremely knowledgeable and approachable, the presentations were if the highest quality."
"I thought it was great and the course leaders were fab. Would highly recommend to others, in fact I can't stop talking about it."
"Just thank you."
"Excellent customer service prior to course."
"Both hosts were engaging, professional and managed the course in a timely manner."
"Great pace, and so well adapted for the online training."
"Really lovely delivery. Great adaption of face to face based teaching to an online platform."
"Great tips given along the way."
"The trainers were fantastic and the course material along with access to the hub is outstanding."
"The course exceeded my expectations."
"Excellent course."
"It was truly excellent."
"I thought this was great, better than in person as there was less cost and stress with travel. Really useful when you have other considerations eg. Family."
"Excited and enthused to start teaching the programme. Look forward to being part of the MiSP community."
"Just to say a massive thank you."
"Thank you! This was such an inspirational course. It was so well led by the trainers; it was an honour to be a part of it."
"It was a wonderful course, I've learnt so much, please pass on my gratitude and thanks."
"It was a truly wonderful course in every way, and I am excited about the journey ahead. Please pass on my thanks to everyone involved at MiSP."
"Thank you both so much for delivering a truly amazing course. Your knowledge , expertise and over all, your passion ,really shone through."
"The course was absolutely brilliant and I found it incredibly inspiring. Thanks to the trainers for their kind, compassionate, human delivery – a masterclass in online delivery."
"Thank you for everything! It was a beautiful and experiential journey."
"It was a wonderful course, the trainers were brilliant, I've learnt so much, please pass on my gratitude and thanks."
"Very impressed with how well the course transitioned to Zoom."
"Everything was well organized. Instructors were great!"
"Really appreciated the empathy and understanding shown towards the challenges of zoom and working from home."
"The trainers modelled the skills that they were trying to teach with great sensitivity and skill. It was very clear they were both very experienced and knew what they were talking about."
"I can't wait to deliver this."
"I was really surprised but I thought it was fantastic. Being able to complete a course like throw from home has so many advantages."
"I cannot think of anything that needs improvement. It was a wonderful training which managed to create a sense of connectedness even though it was on an online platform! Thank you!"
"Really high quality."
"I thought it was first class."
"Another thank you!"
"I felt inspired and motivated, thank you all for the experience."
"Thank you. It was such a good week."
"I enjoyed it immensely. It improved my own practice and I met some incredible people that I feel will be friends for life."
"Thank you very much for the amazing training, support and this huge opportunity of giving the course online!!"
"You need to add an 11, 'outstanding" to your question!"
"The course worked much better than I had anticipated on Zoom and the sense of community that the trainers generated was amazing."
"I felt very fortunate and excited to get on the course, but must admit, I was not sure how well it would translate into Zoom. Hats off to you! You so managed to engender a strong sense of community, that is key to the success of this kind of thing. What a powerful course, so brilliantly modelled and led by your good selves."
"Absolutely wonderful trainers. True professionals who clearer practiced what they taught and had a great deal of experience."
"The trainers both oozed mindfulness- inspiring."
"Clearly experts in the field and strong practitioners."
"Absolutely outstanding course."
"Great course."
"Superb course."
"Was excellent throughout."
"Excellent course."
"I thought the course was excellent and very well run."
"It was most useful to be asked to lead the practices in small groups- very supportive atmosphere."
"This was really an excellent and well-organised training."
"The trainers were outstanding."
"Amazing stuff."
"THANK YOU !!!"
"Thank you for providing us such wonderful tools to teach mindfulness to teenagers."
"This is one of the best teaching courses I have been on."
"Online format worked really well."
"Great depth of content delivered in an engaging way."
"Our trainers did a great job at creating a real sense of group despite being video-linked."
"Both trainers were top notch and really knew their stuff. Very experienced and it was good to have trainers that have clearly been school teachers."
"Everything is covered and has been thought about- content, materials, resources."
"Great course and most enjoyable! thank you."
"The training was exemplary and the trainers were fantastic; I thoroughly enjoyed the week. It was brilliant."
"I feel as though the course offered all of the support that I needed."
"I have learned a huge amount and excited to be bringing this to my students."
"I felt the whole thing was very professional and very well organised. The teaching aids are very clear and generous with their information. I could not fault anything about the course or the course leaders who were excellent and very supportive."