As a result of the coronavirus pandemic, we adapted our face to face courses so that we could deliver them online after 23rd March 2020. This feedback relates only to the online version of this course delivered since that date.
Total number of participants from 29th May 2020 to 31st March 2021: 303
Number of feedback forms received: 244 | Proportion of participants represented: 81%
Mean rating of this course:

95.7%
How well organised was the course?
How well structured was the course?
How skilled was the training team?
How well suited is the curriculum for use in your setting?
To what extent do you feel equipped to deliver the curriculum?
Which aspects of the course did you find extremely or very useful?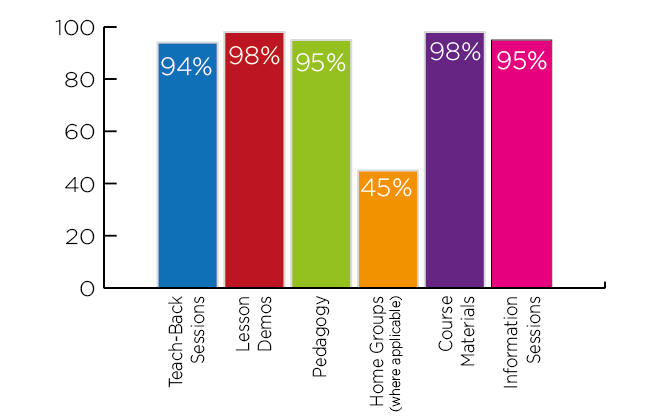 Would you recommend Teach Paws b to others?
Comments from Participants from 2020 online Teach Paws b courses:
"It was exceptional and I very much enjoyed and benefitted from the training."
"The trainers were organised, knowledgeable, encouraging and skilled in delivery."
"The training was fantastic. Really enjoyed it and I'm looking forward to putting all I've learnt into practice. "
"The course was everything i'd hoped and more! The content was fantastic and the trainers were amazing."
"I think the training was excellent and can't think of any areas for improvement."
"I thought the training was amazing."
"Thank you for a fantastic training experience. I believe the content of the course could be very powerful when taught to the children back at school."
"Well done. It is the best course I have been on."
"A thoroughly enjoyable and informative course which provides an amazing set of resources which will be invaluable in the future."
"I thought it was excellent. I was a little apprehensive about doing it online but I think it was managed brilliantly and at times I (almost!) forgot that we weren't in a room together."
"It was really good and I would definitely recommend. I feel the training and resources that then can be used in schools to deliver this are very good value for money. I am very excited to be able to now deliver this in person to our children."
"Excellent! I loved the structure, I felt it went really well – I felt engaged and inspired. I'm just sad that it is now over!"
"Good balance of different types of learning."
"Good pace, well balanced good use of tools to engage."
"Really found the examples of real-life teaching and anecdotes incredibly helpful. Having lots of practice was great, also the humour and lightness and heartfelt-ness of everything too. Felt supported and valued."
"Thank you! Trainers were both awesome and obviously highly skilled and authentic. Excellent work!"
"Brilliant – the trainers were both engaging, thoughtful and compassionate. I learnt lots from them and it was truly a pleasure to be taught by them."
"Inspiring on many different levels."
"I was really amazed by the cohesion of the group and how you can still achieve this online! Think practising together must help form the bond between everyone and also the set up by the trainers made everything feel "safe"."
"In terms of cost and ease it works well. I did miss the interpersonal connection of doing a course in person. However it doesn't really detract from the learning and understanding of the lessons, theory and pedagogy. I still greatly enjoyed the course!"
"I really can't think of anything I would have changed, it was such a good course, great group, outstanding trainers and organisation. Thank you."
"Really well managed in the current climate."
"It's been a brilliant week thank you. Loved it!"
"Please can you pass on my heart felt thanks to the trainers. It was a wrench to leave today. They have made it a fulfilling and inspiring experience given the online delivery. They held us so well and I feel part of a wonderful community. They also helped me to grow and develop personally. Thank you!"
"Thank you so much for this excellent training and for running everything so very well in these circumstances.  I really enjoyed the training even though I really wanted to do the training in person. Hopefully I will meet you in person at some point in the future!"
"Thank you once again for organising and delivering such a wonderful course.  It is what our community needs especially at this critical moment."
"Extremely well organised and very friendly prompt replies."
"As a mindfulness teacher, I learned as much from your teaching as I did of the content."
"This was excellent, considering it was an online course I thought it was handled brilliantly."
"The pace and length was good with regular breaks and practices."
"The trainers were excellent in delivering this course. And adapted it for zoom extremely well."
"The materials are fantastic."
"I feel well equipped."
"The whole 4 days was extremely well structured and organised and the support and information available to us on completion is amazing. Thank you to you all. You have done an amazing job adjusting this course to online so we can still train and deliver it to children who I'm sure will need it now more than ever. Definitely a life changing course. Many thanks."
"I think the course was run very well on-line. I was a bit nervous since I was very "Zoomed out" from teaching virtual school for 3 1/2 months. I was pleasantly surprised at how quickly it went by and I appreciated the balance of content and teaching methods in the course."
"It was an excellent course. A real sense of camaraderie and a few tears towards the end showed the sense of connection and purpose which was made over four short days. Thank you."
"It was excellent, just what I needed."
"The whole course was excellent !   The facilitators were very special people and it was a pleasure to be with them   Thank you for a well presented , professional and very informative course."
"Nothing to improve, it really was amazing, well thought out and delivered training."
"This is the best CPD I have ever received … no CPD has ever made an impact on the way I live my life. I feel so privileged to have been a part of this training and I can't wait to implant it in the beating heart of my school. Thank you."
"Both trainers were excellent, enthusiastic, humourous, knowledgeable considering the on-line conditions."
"Enjoyed every minute."
"A huge thank you and I would add that the trainers demonstrated perfectly well with their own behaviour, attitude and the atmosphere they created how this should be done in classroom. Teaching through example!"
"The course trainers implemented the sessions so well, they were informative and kept me engaged throughout the course. thoroughly enjoyed every minute from learning, laughter and feeling of calm."
"Thank you so much for this wonderful week, it has equipped me with the skills and confidence to teach the course but has also renewed my passion and reasoning for doing this and why it is so important."
"Just a heartfelt thank you to everyone at MiSP. I now feel truly part of an incredible community and you have all done a wonderful thing by founding this project, creating amazing materials and delivering inspiring training. I hope there will be a lasting impact on our younger generation and every generation after. Thank you again."
"Just want to say thank you to all involved in this training."
"Thank you for opening up this opportunity on-line! I think this will be a great way to offer mindfulness learning to students in the coming school year."
"Thank you. I didn't think I would enjoy it this much, especially with it being online but there was a real sense of connection within the group."
"You are all wonderful! This is so inspiring. Please keep an online strand to future training!"
"Really well paced and the breaks were just great."
"The tone of the sessions and the level of connection with all participants was great."
"Fantastic balance between the 2 trainers."
"The different break out groups were really good… I got lots of information and ideas about how to go forward."
"Thought it was a brilliant course – both trainers excellent and so knowledgeable."
"Training was excellent!"
"I really enjoyed the course. The fact that it was online meant that I could attend as the cost of travel, hotel and supply cover was prohibitive. So I was really pleased that it went online."
"This course was extremely well thought out and professionally and clearly delivered."
"It was excellent and I was very impressed by both the trainers and MiSP as an organisation. Thank you!"
"This training was excellent and despite my original worries about online training it has exceeded expectations. There was perhaps an additional comfort level being at home. Good connections were made and sense of group still very powerful."
"I thought it was absolutely outstanding."
"An extremely enjoyable, relevant course which feels like it could have a huge impact on the children (and the teachers)."
"I thought four days online was going to be a slog, but it really wasn't. I thoroughly enjoyed it and feel excited to deliver it in school."
"Loved it.. Improved my personal practice, confidence and I do feel equipped to take it forward. I did this as a useful 'add-on' to my skillset, but now want to make this a key focus."
"Simply to say thank you for such an excellent training programme and all you are doing as an organisation to bring mindfulness into schools. What an inspiration!"
"Super leaders! Fantastic!!"
The facilitators held the space with mindfulness, a sense of ease, kindness, and equanimity."
"This was a fantastic course, extremely well organised, paced and presented. It has been outstanding!!!"