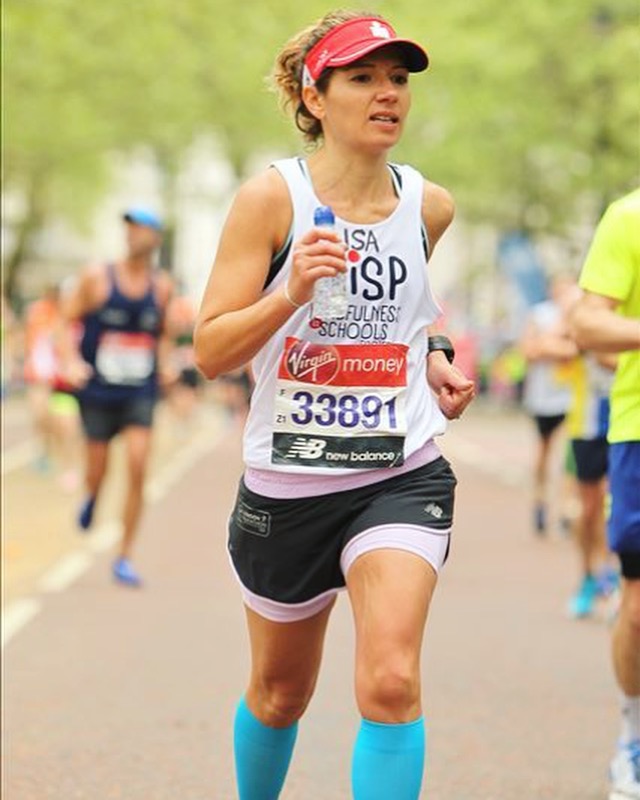 Last week our Paws b and .b trained teacher Lisa-Marie Santelli ran 26.2 miles to raise money for our A Million Minds Matter Appeal. One of 42,549 who crossed the finish line, she navigated a challenging course in an amazing time!
We were delighted to have our first ever fundraising runner taking on this epic challenge for us. Famous the world over, the London marathon has it all: elite athletes seeking personal bests, historic landmarks, cramp-inducing cobbled streets, thousands of supporters lining the streets, bands and entertainers all along the route, the occasional marriage proposal and most importantly 'fun-runners' raising money for charities. This year the organisers announced that the 2019 race was set to surpass the £1bn mark in money raised from fundraising since the event began in 1981, and with over 414,000 people applying for 43,000 places, we feel extremely fortunate to have had our very own runner representing and raising money for our charity.
Lisa-Marie ran like the wind! She completed the course in an incredible time of 3:17 and has so far raised a massive £1,128.93 for us. The money raised will ensure that cost is not a barrier to accessing our courses, as well as supporting the development of new materials for schools and our outreach work to new audiences.
Lisa-Marie gave us her own account of the experience:
RACE DAY

I woke at 6 am and thought to myself, 'I've given myself a mammoth mountain to climb today" but I knew I was ready and willing to try.  And for me, it was going to be 3 hours and 20 minutes of mindfulness in action.

Waiting in the Zone 1 start pen, I met two incredible men, one who was in his sixties and racing his 49th marathon!!  Talking to them released any nerves I had about the race and I knew right then and there that this race was going to be about connection and it didn't fail my expectations. For the whole race, I soaked up every smile, every cheer, every lovely stranger who called out my name and shouted 'GO LISA!!'. I had a grin from ear to ear and every time someone shouted my name I looked back and thanked them for their support.

Some people say that if you're losing faith in humanity, go watch the London Marathon.  Total strangers, getting together for a common purpose and cause.  I can say it was one of the best experiences of my life and I highly recommend this journey to anyone else that would like to test out the limits of their body and mind.  People who run marathons don't do it because it's easy, we do it because it's HARD.  But the rewards are tremendous and life long. "
Thank you Lisa-Marie!
If you would like to undertake a personal challenge to help raise funds for our A Million Minds Matter appeal, please take a look at our Fundraising Pack for ideas and visit our JustGiving page to start fundraising for us!