From the Oxford Mindfulness Centre:

Staff and children share their experience of mindfulness and .b.
From Melland High School:
This feedback shows students from
Melland High School
, Manchester, UK discussing the benefits of mindfulness, having recently completed the Mindfulness in Schools Project
.
b
curriculum. The students in the cohort range from 13-19 years of age and felt that mindfulness had helped them with a range of issues, including difficulties with sleeping.
They also reported a range of other benefits including the ability to be less reactive in challenging situations and an increase in confidence when facing potential tricky social situations. We hope you enjoy watching them. You can find out more about Melland by visiting: www.melland.manchester.sch.uk.
From author Jon Kabat-Zinn: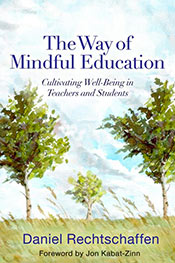 In December of 2013, Chris Ruane, a Member of Parliament in the United Kingdom, and for many years a classroom teacher in Wales, gave a powerful and compelling speech in Parliament addressed directly to the Minister of Education sitting before him in the chamber. The speech, which he entitled
Mindfulness in Education
, aimed to make the case for why the efforts in the UK to bring mindfulness into primary and secondary education is so important, and why all classroom teachers should be offered the opportunity to receive quality training in mindfulness. He singled out a number of programs as exemplars, including what is called the "
.
b
" program, a curriculum developed by
Mindfulness in Schools
, the work of two secondary school teachers, Chris Cullen and Richard Burnett. They have developed imaginative and highly popular approaches for teaching mindfulness in elementary and secondary schools in the UK. Their group has a research program linked to the Oxford University Centre for Mindfulness. It is one of a number of inspiring mindfulness programs that Daniel Rechtschaffen describes. There are many others, both at home and abroad.If you are a teacher, or an educator, or involved in school administration and curriculum development, the book you hold in your hands has the potential to transform your life, the lives of your students, and the life of the school itself, as well as education in America. I welcome its timely publication. May it be a useful and valuable resource for all teachers who wish to optimize both inner and outer learning and to nurture the unique potential and beauty of each of their students.
by Jon Kabat-Zinn
Foreword from The Way of Mindful Education by Daniel Rechtschaffen
From author Fettes College:
This video features testimonials from students at Fettes College and their experience using
.
b for teens
in the classroom. Many more written testimonials are also listed below.
Comments from students who have taken the

.

b

course for teens:
Increased awareness and acceptance
"Mindfulness helped me to accept things instead of pushing them away"
"I don't really criticise people as much…. some people are the same and some people are different, so after mindfulness I understand why people are different, and you have to accept that you can't change that."
More rational thinking
"It just helps me to gather up my thoughts, and sort of restart…. I can keep my mind focused, just getting work done, and find the answer to the problems I face."
"I've started to think positively more…"
"I've known how to make choices better, and I make better choices – better for me, for now and for my future."
More calm and relaxation and less stress
"Very useful…I use it when stressed, overworked."
"When I think about calming down, I've actually had some lessons on how to do it, so I can do it."
"It was the only time in the week where I could relax and clear my mind."
"It enabled me to be able to focus on the present moment, without worrying about exams, results, homework and so on."
Less reactivity and impulsiveness – greater self-control
"Less teasing because I'm not reacting to it anymore – they do call me names, it's just I choose to ignore it."
"It's helped me to stop doing all that stupid stuff I do… and I like it"
"Once my brother was annoying me so much, I hit him, and I got told to go to my room, so I did FOFBOC a 7-11 in there, and after about five minutes I calmed down."
Better behaviour in class
"Our class actually got quite a lot more well-behaved as a result of it."
"It helps a lot – other people aren't being distracting, and it helps you not distract other people if everyone's doing what they're meant to be doing."
Improved attention and focus
"I didn't pay attention that much, but now I get focused on what the person's telling me."
"There have been times when I wanted to be distracted, but I've controlled myself to carry on doing what I've been doing."
Improved academic attitudes, skills and achievements
"Now I try to do like the best I can, achieve the most that I possibly can."
"It made revision a lot easier if I just took the time to focus."
"I have already found it useful in sporting situations. I now '.b' quite often before a football match just to relax and think about what I want to do in the game."
Feelings of confidence and competence
"I feel now I can reach my goals of what I want to do in the future, whereas before I was 'Oh I don't know if I can do that'… now, I feel like I can."
"It's helped me be calmer in class and less anxious, so being more confident and speak out… the teacher will explain it – if you get it wrong, you find out how to do it right."
Goal setting
"Before I didn't really care, but now I do care what I do in the future."
"I used to not want to try anything new, but now I'm more open to the future, or not as closed-minded."
Relationships with others
"I used to argue with my Mum a lot. Since I've done the mindfulness, we haven't had an argument."
"I've realised that you can trust other people. I had fear of certain people; now I know that everyone is the same."
Health
"I used to have pretty bad insomnia; I didn't used to be able to sleep much at all, but I'm not too bad now…. the 'Beditation' practice, that's the thing that helps me; it's part of my routine now."
"I feel healthier….. I think that it's healthy mind, healthy body. I'm probably in better shape than I've been ever in my life, which is pretty good. My skin cleared up immediately, just whilst doing the mindfulness lessons; I'm sure it was connected, and I've just been more willing to look after myself."
Happiness and enjoyment
"I really think I am happy….. I'm really enjoying my life at the moment in a way I haven't done previously."
"I've noticed I've been calmer, and more playful, and yeah, more happy."
Mindfulness
A poem by Tashann McGhie 11Kpa. Bethnal Green Academy
Take away the stress
And worry less
Take away the pain
And focus on the brain
Puppy training,
Wash away the past as if it's raining
Forget the past
And return to reality fast
Be calm and anxiety free by joining Mind Gym like me
Whether exams, friends, family or rules
Mindfulness gives you powerful tools
So join us now
And find out how
To focus on your breath
And master how to de-stress
It can help you sleep
So when your alarm beeps
You'll feel ready for the day ahead
Not concerned about the future instead
So every you time you pass the posters in school
Stop, think, 'mind gym sounds cool'
If you want to join ask Mr Morris
He's passionate about this and you will be too
Give it a try and see how many 7/11's you do
By Tashann McGhie 11Kpa. Bethnal Green Academy