The first in a series of blogs inviting MiSP trainers and trained teachers working in schools and other settings to reflect on a working day and explore how mindfulness is embedded in their work and life.
---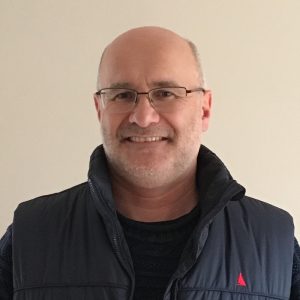 A day in the life of David Bignell
David has worked in primary education for 31 years and is currently co-headteacher at Temple Mill Primary School in the Medway Towns. Since training as a mindfulness teacher David has worked closely with the Mindfulness in Schools Project (MiSP) and delivers courses to children and adults in the education sector. He is part of the national training team for MiSP and trains educators to deliver mindfulness courses to children in primary schools. In addition, he has trained with colleagues from the Centre for Mindfulness Research and Practice at Bangor University, and the Oxford Mindfulness Centre, in order to bring mindfulness to adults.
When and how does mindfulness practice show up in your day? Formally with meditation practice? Informally with moments of awareness, grounding, appreciation?
I learnt a long time ago that if I don't prioritise my practice it won't happen due to busyness or tiredness or both. As a consequence, I have developed a daily routine which involves getting up earlier and then spending twenty minutes each on walking the dog, mindful movement and my sitting practice. This routine establishes a secure and stable basis for my day and a sense of equanimity about what it brings.
I like to end the day with a befriending practice which has the effect of calming and settling my mind and preparing me for a good night's sleep.
In between I use mini-practices throughout the day – mindful corridor walking, taking time to eat my lunch and when I remember taking a pause between activities so that the day doesn't get dominated by a sense of doing rather than being. I am not always successful but when I do manage to take these moments it certainly helps to sustain a sense of not being a victim to the relentless busyness of school leadership.
"It certainly helps to sustain a sense of not being a victim to the relentless busyness of school leadership."
If you reflected back on the day where are the moments you had awareness of choices, noticing, what are those moments for you? e.g. responding rather than reacting, choices around what next, interactions with others, choices around self-care.
On this particular day I was aware of my choices in terms of the conflict between being present for those around me and trying really hard to tick off the tasks on my to-do list. One strategy I have now is to make sure that I include on that list all of the tasks that I often used to take for granted; meeting and greeting parents and children at the school gate, leading assembly, going for a walk around the school to be visible and check in on everyone. Ticking these off gives me a sense of achievement and an opportunity to feel positive that I am making a difference – not just rushing around like a hamster in a wheel.
I also know to take a pause and step back dealing with adults. When I first became a headteacher I thought it was my job to try to fix everything but I have learnt the importance of pausing, listening with full attention and then asking, "How can I help?" before doing anything else.
What about noticing 'after the moment' if you didn't make skilful choices during the day? What might that look like and what do you do then? How does your practice help you meet those less than perfect moments?
Movement has become an important practice for me when things don't go as well as I would like. Getting out of the chair, the office, the building just for a brief moment can really help me to reset and process what is happening in my body and my mind.
"I try to ensure that there is at least one thing on my list every day that I love to do."
Another strategy I have is to try to ensure that there is at least one thing on my list every day that I love to do. For me that might be leading a dots or Paws b mindfulness session with a class of children or facilitating a Philosophy for Children lesson. These activities remind me of my core intention in becoming a teacher and help me to develop meaningful relationships with the children. It's very rewarding at the end of the day to hear the children telling their families about my visit to their classroom and the parents seem genuinely pleased that I have taken some time to work with their children.
What's your go to practice in the midst of a working day? How does it resource you?
My go to practice is just to pause, reconnect with my feet on the floor and then the breath. Sometimes just doing this is enough to re-frame the moment and introduce a sense of space and stability in the midst of everything.
What else supports your health and wellbeing? e.g. leisure/activities, routines, healthy eating, exercise etc.
Outside of school an activity that supports my health and wellbeing is to play nine holes of golf – this represents two hours of being outside thinking about nothing more consequential than which club to use next!
How does mindfulness fit with these other wellbeing choices and approaches?
Golf is great for mindfulness – if you are not fully present when you hit the ball it goes all over the place. The most common mistake that amateur golfers like me make is to look up just before we hit the ball – wanting to know where it has gone before finishing the shot! Living in the future rarely helps…..
"No act of kindness is ever wasted."
Do you have any advice, an inspirational quote or a reason you would recommend others to have a go?
If I were asked to offer any advice it would be to remember that when you change one thing, you change everything…..and that no act of kindness is ever wasted.