Mindfulness in Schools Project is delighted to to have agreements with a small number of organisations to run our Teach .b and Teach Paws b courses outside of the UK. We have worked closely with these international organisations to ensure that they are able to maintain the integrity and quality of our courses and that they have a suitably qualified, professional local training team. Whilst we retain a close relationship with all our international partners, they run courses independently from MiSP.
Our Partner in Hong Kong…
The Jockey Club "Peace and Awareness" Mindfulness Culture in Schools Initiative (JC PandA) aims to promote a mindfulness culture in Hong Kong schools and focuses on the mental health of students, teachers and the general public.
This six-year project, running from 2019 to 2025, is funded by The Hong Kong Jockey Club Charities Trust and organised by the Faculty of Social Sciences of The University of Hong Kong. JC PandA is one of the pioneer large-scale projects in Chinese societies that explores the benefits of mindfulness for students and teachers in school settings.
The project's research findings and experiences will shed light on how mindfulness could be applied in the education sector, and enable educators in Chinese societies to apply mindfulness to building a healthy and flourishing school culture.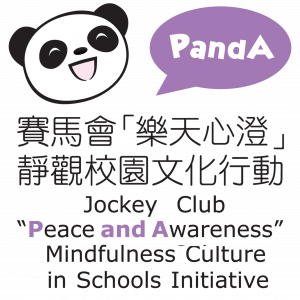 How can I find out more about this project?
WATCH THE SUBTITLED VIDEO: 賽馬會「樂天心澄」靜觀校園文化行動
You can find out more by visiting the project's website.