At MiSP, we were delighted recently to receive a generous donation to our work from Fairview Primary School in Ballyclare, Northern Ireland.
The school's Vice-Principal, Neil McAllister, told us why they wanted to donate:
"With the sudden closure of schools in March, it was such a long time before we were able to welcome children back into school in August. For many of our pupils, online learning enabled them to remain in contact with school and maintain a level of education. But for some, online did not work for a variety of reasons and the experience was not a positive one. As staff in school, we were very aware our children would come to school for the new school year having gone through difficult times, perhaps with the loss of a loved one, or simply having missed the routine and camaraderie a school day brings. When Mr Thompson from Ballyclare High School got in touch and offered to deliver some Mindfulness lessons to our P7 year group, we were delighted to get involved.
The lessons have enabled pupils to train their attention to be more aware of what is actually happening, rather than worrying about what has happened or what might happen. This has helped them to not only appreciate what is going well but to respond more skilfully in the here and now to life's inevitable challenges. With AQE coming up and transition to Post-Primary not far away, our Primary 7 year group have found this training most useful.
We are delighted to make a donation of £100 from Fairview Primary School, Ballyclare for the good work that MISP carries out."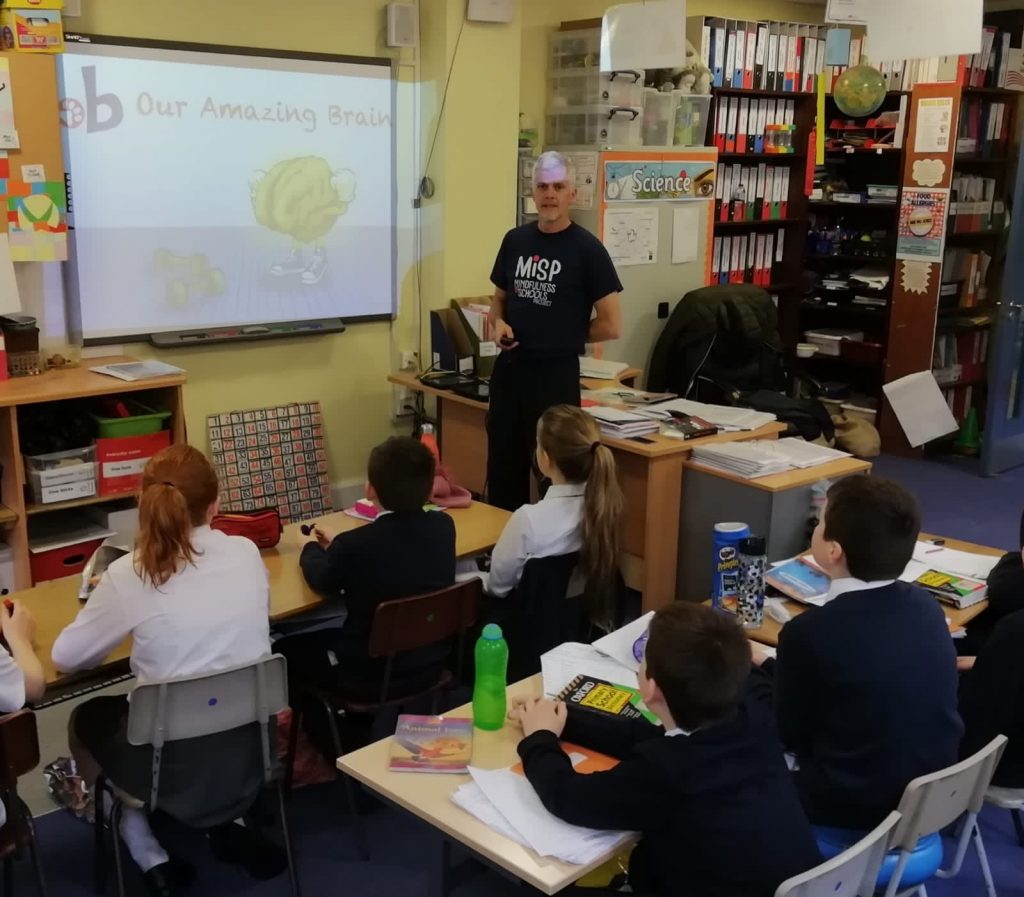 Rebecca from P7 said:
"I have found getting into my own bubble when I am worried or stressed a useful technique. We have learnt about the pre frontal cortex in the brain and how that helps us to make choices, and make the right choices!"
If you would like to help us to bring mindfulness to schools you can donate to support our work, or buy a t-shirt (modelled in the photo by Mr Thompson!).
A big thank you to Fairview Primary School and to Ballyclare High School from everyone at MiSP.
---
MiSP is now offering a series of free, expert-led, professional development webinars to support staff in schools at this time. Find more information here.