Cliciwch yma am fersiwn Cymraeg y dudalen hon
Name: Ffiona Owen
Role: External mindfulness teacher
Location: Swansea
Age range of students: 7 – 11 years (KS2)
Number of students: 276 (KS2)
Number of classes: 9
Percentage pupil premium: N/A
Percentage SEND/SEMH: 16.7%
Number of staff trained to teach mindfulness: 0
Date of delivery: Summer term 12/04/2021 – 16/07/2021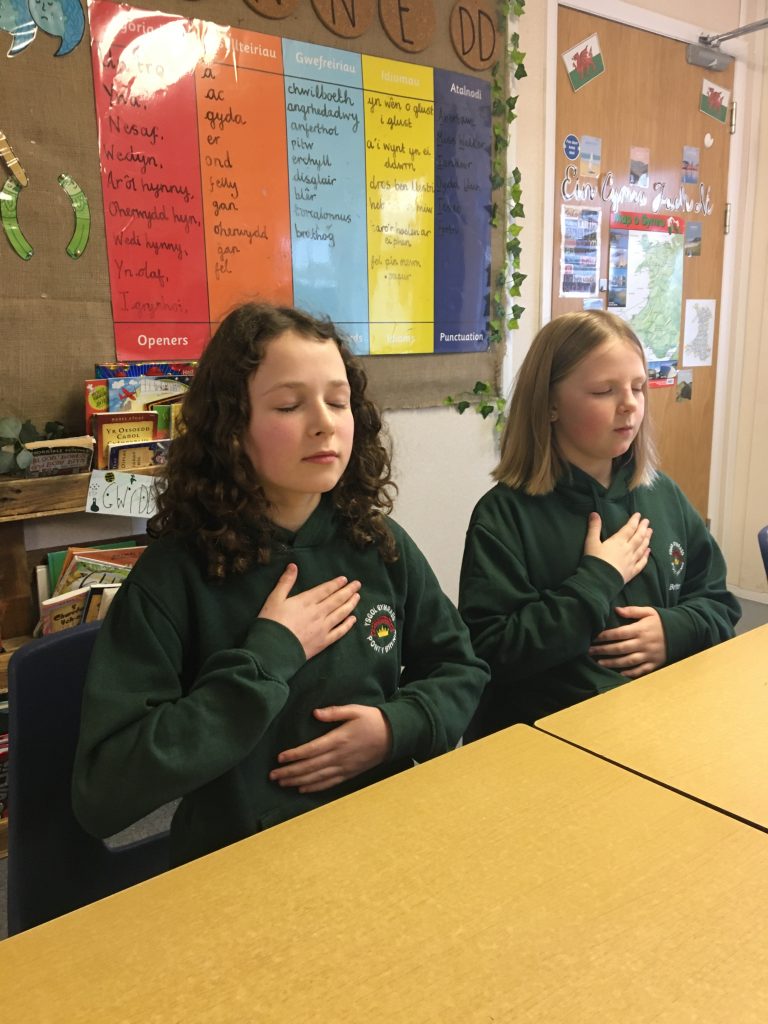 During October 2014, on the recommendation of a psychologist, I completed the 8-week Mindfulness-Based Stress Reduction (MBSR) course run by Dr Helen Davies from the Centre for Mindfulness-Based Work and Research, Swansea University, to help me deal with a newly-diagnosed neurological condition and the constant uncertainty, worry and stress it brought.
I had practiced as a Physiotherapist for 10 years, specialising in stroke rehabilitation. My practice was evidence-based and I'd never heard of mindfulness. I was struggling at the time and I had nothing to lose, so I completed the MBSR course.
I learnt so much: how to be present, how to concentrate on the here and now, how to deal with difficult emotions in a healthy way. I couldn't help but think if I'd learnt these skills sooner, how much better I would have dealt with life stresses. At the time, my children were 5 and 3 years old and I couldn't help but think how beneficial mindfulness would be for them.
During the Autumn term 2019, I approached Mr Ceri Scourfield, headteacher at Ysgol Gynradd Gymraeg Pontybrenin, a Welsh-medium primary school in Swansea that my then 10 and 8 year old children attended. I already had a strong relationship with the school through my own children and I regularly volunteered to help Foundation Phase pupils with their reading. My hope was to introduce mindfulness programmes within the school.
I explained the Paws b course developed by Mindfulness in Schools Project (MiSP) and we came to the agreement that I would deliver the programme on a volunteer basis to all 9 KS2 classes in return for the school paying my course fees. The curriculum had just been translated to Welsh and we would be the first school to deliver it in this language. This agreement pre-dated the overhaul in the Welsh schools curriculum and before the onset of Covid.
At the beginning of the Spring term 2020, Covid hit – my training was delayed and visitors weren't permitted on the school premises at that time. I completed my Paws b training online June 2020 and in the Summer term of 2021 I delivered the course to the KS2 pupils. The purpose was to introduce mindfulness to the teachers and students at the school with a view to the school looking into further training for its staff in order to fully embed mindfulness long-term, with me coming in on a consultancy basis to support its implementation.
I had never taught a classroom of children before so it was a steep learning curve! I gained so much confidence in myself, my own abilities and the belief I had in mindfulness and the Paws b course only strengthened. It was an absolute pleasure to teach at the school and I was quite emotional when I finished – I didn't want to leave. I had lots of amazing feedback with several staff members visibly invested in the curriculum and seen its benefits first-hand, and very keen to continue with mindfulness within the school and some keen to even train themselves and be able to deliver it.
Some staff feedback:
"I am definitely more aware of when I'm feeling wobbly and I've learnt techniques to help myself. They truly do help, not just within the school environment but personally in every-day life too."
"Mindfulness is so important for both pupils and staff. I have seen such a positive effect on us and I will definitely be in touch in the future to carry on this fantastic work."
"The practices help me with my own anxiety."
"As soon as I notice that the class (or I) are unsettled, we do one of the breathing exercises together and it brings us right back down and helps us to focus better, most definitely."
"I need to do these exercises myself because I'm stressed, so I'm glad you're here!"
Some student feedback:
"I did the breathing exercises when my sister was winding me up. They helped me to settle and stopped me from fighting back like I normally would."
"Are you coming back next year to teach mindfulness again?"
"The best thing about the course is that we could talk about what was worrying us."
"Relaxing!"
"I do the practices before I go to sleep; they help me settle and fall asleep."
"The practices help me when I'm sad."
"It helped me not to stress out."
"I love the mindfulness lessons and I'd love to do it every day."
"I did the tummy and chest breathing before I did my swimming competition because I was scared and nervous.It helped me to settle and focus, and I won the competition!"
Some parent/family feedback:
"My grandson taught me how to do the tummy and chest breathing when they noticed I was stressing about something. It's brilliant the school are teaching students things like this."
On the back of this, one parent, who is a Deputy Headteacher themselves, saw how beneficial it was for her children and has invited me to deliver the Paws b course to all KS2 classes and their Junior Specialist Teaching Facility at Bishopston Primary School where I am coming to the end of the 12-week course now.
Awareness of the course has been raised within the Ysgol Gyfun Gŵyr feeder schools and interest has been shown by Swansea Local Authority Educational Psychology team.
As time has progressed schools in Wales have begun to develop the detail of the new Health and Wellbeing Curriculum which provides opportunity for mindfulness to make a significant contribution.  Ysgol Gynradd Gymraeg Pontybrenin are now in a position to take this on board and hopefully share that with the other feeder schools to Ysgol Gyfun Gŵyr.