What is
.
b Foundations?
Teach .b Foundations is a course designed by Mindfulness in Schools Project (MiSP) for adult mindfulness teachers to learn to deliver .b Foundations to adults in schools.
Offering a fresh take on the traditional 8-week MBSR/CT curriculum and approach we aim to make mindfulness as accessible and effective as possible for adults in school settings.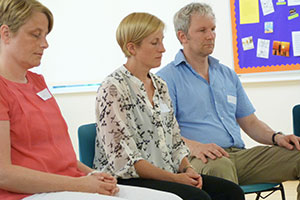 What is different about
.
b Foundations?
School staff are often frantically busy and may find it even more difficult to dedicate time to activities aimed at their own well-being than other 8 week course participants. The workplace setting also means they are taught in groups with colleagues and line managers.
To raise awareness and stimulate demand .b Foundations includes a carefully crafted taster session , along with shorter session than usual (90 minutes) designed to effectively introduce mindfulness to adults in the school community. Supportive attitudes and ways of relating are introduced visually and kinaesthetically, with the intention of fostering curiosity and engagement. Aspects of the .b (age 11-18) and Paws b (age 7-11) are included which help build a shared mindfulness language within school.
Who can teach
.
b Foundations?
This training route prepares teachers of MBSR/CT to teach .b Foundations. It is necessary to have completed at minimum a Level 1 training in Mindfulness (e.g. TTR1 at Bangor CMRP). Please see our formal list of prerequisites for full details.
The training course
This 3-day training course enables us to offer:
An introduction to the

.

b Foundations

curriculum
Development of knowledge and confidence in delivering the curriculum content
Familiarisation with styles of delivery and enquiry specific to this curriculum and the schools/workplace context
Development of a workable plan to begin to access schools to offer

.

b Foundations

The course will allow people to explore and reflect on their own personal and teaching practice, offering learning relevant to participants' other mindfulness teaching.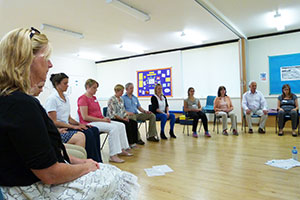 How MiSP supports you after the training
Upon completion on the training you receive six months free membership of the MiSP Teachers' Network (£75 +VAT a year thereafter) which includes an active forum, promotional materials and updated versions of the curriculum and resources.
Can I translate the materials?
If you are interested in translating this curriculum into a language other than English, please read the section on translations in the FAQs. If you have any further questions, please contact enquiries@mindfulnessinschools.org.
Referrals are via the

.

b Foundations teacher map
A .b Foundations map is now available which enables schools and other organisations to contact .b Foundations teachers in their area. As you will be self-employed, we are not in a position to instruct you on what to charge. Of course, it will vary from region to region and according to the size of group, type of school, travel time and experience etc, all we ask is that the fee you charge is reasonable and affordable for all schools. This is key to the integrity of the work we do, and our aim to increase the accessibility and sustainability of mindfulness provision within schools.
Please click to view the Terms & Conditions for booking a .b Foundations course and the Terms and Conditions of teaching the .b Foundations curriculum