Mindfulness in Schools Project recently spoke with Escuela Oficial de Idiomas Navalmoral Headteacher, Nuria Cabellos González, about her mindfulness practice, how she discovered our curricula, and the benefits she has seen from it personally and professionally.
Tell us a little about you…
My name is Nuria Cabellos and I work in a languages college in Extremadura, a region in central-western Spain.
I came to this area about a decade ago and I am enjoying the wonderful countryside, personal and professional development and my job in the area. Having worked in a much bigger school in Madrid, coming to a smaller area closer to nature, is allowing me the possibility to slow down and have a greater balance between life and work.
Mindfulness has had a great impact on my life and it has helped me to connect with nature, myself and others in a way that I had not been able to do so before I learnt about it.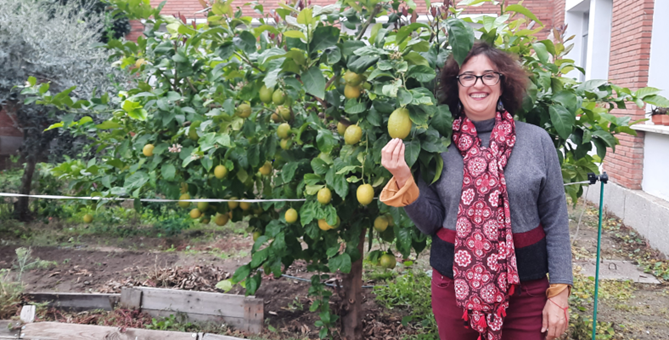 How did you hear about Mindfulness in Schools Project (MiSP) and what have you gained from your practice?
I discovered MiSP while researching ways to develop my mindfulness practice and completed the .begin, Paws b and .b courses. I wanted to share the positive effects that mindfulness has had on me and wanted to share it with others.
In my last course at .b in Leeds, by chance, I met Isabel Rubió Gavidia, a psychologist and fellow Spaniard who was also working with MiSP Curriculum in her practice. After the course, she proposed that we revised the Spanish translation for .b courses and translated the videos. Translating and dubbing the course has been a mindful project where we also wanted to integrate the curriculum as part of our practice.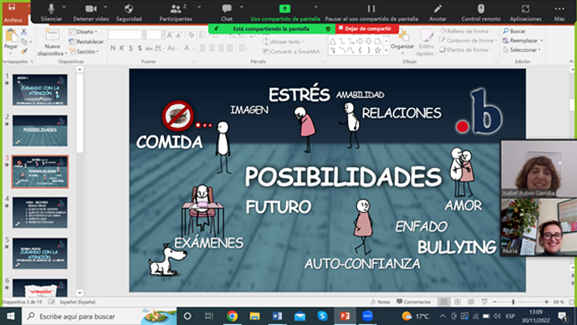 We have been meeting regularly online for the last couple of years to translate and dub the curriculum videos. Thinking of which term fits best for an accurate practice has been stimulating. It has been a challenging task too, and one which we both have enjoyed. MiSP has brought us together from different parts of Spain and we are now great friends.
How does the MiSP curriculum benefit your day-to-day?
The MiSP curriculum really helps me both in school – as a teacher and school manager – and outside school too.
The language I use to talk to myself and others has been a process of discovery and reflection! Stopping and doing a .b when things get busy, beditation (or 'camitación' as we translated it!), and savouring the good are practices that I have recommended to my students and colleagues in my school.
WATCH: Beditation by MiSP
Implementing the MiSP curricula certainly increases the relevance of mental health in the educational community. This is paramount in the challenging times that we live in as a society. Having a national and international community of MiSP amigos/amigas is wonderful!